Odyssey Music Festival, based in St. Petersburg, Florida, has unveiled its 2023 lineup at last. Home to The Wave Stage's very own festival stage, OMF20xx has been on our radar for quite some time, as it is one of the only festivals with a space reserved for wave music.
Last year, The Wave Stage hosted brilliant artists like barnacle boi and deadcrow at OMF20XX–
Let's see what they have in store for us this time around.
Odyssey Music Festival 2023: the full lineup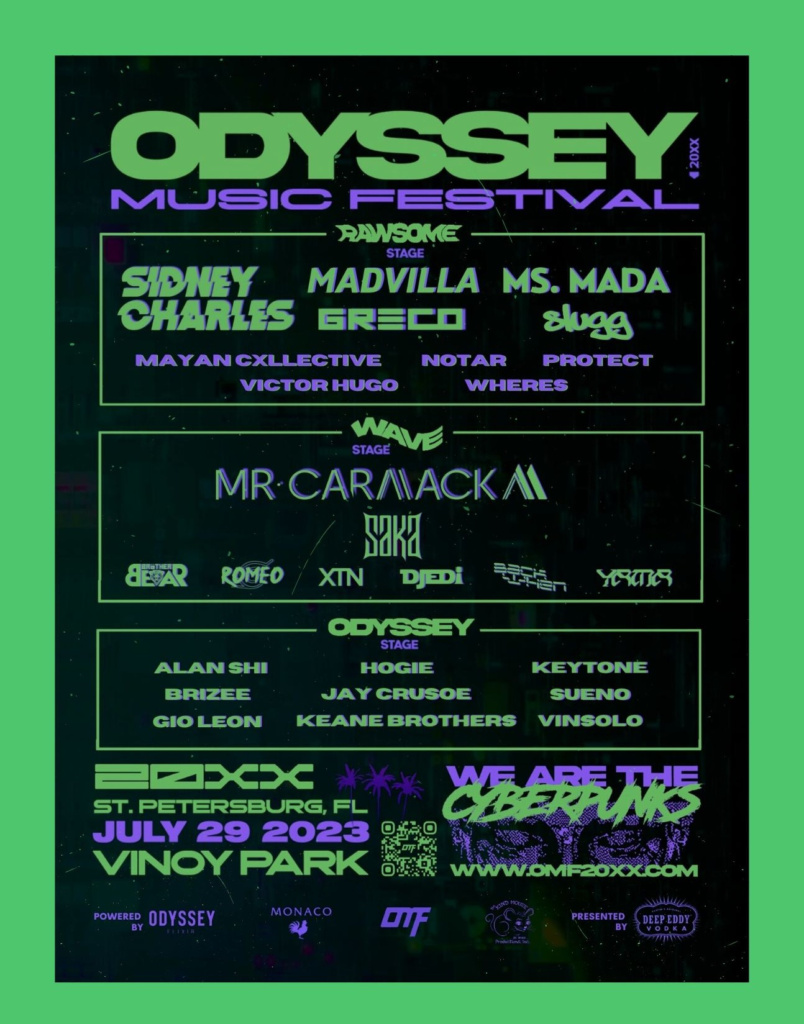 OMF20xx: the details
The need-to-know about Odyssey Music Festival 2023 is:
This festival takes place on Saturday, July 29th, starting at 2PM.
The location for OMF20xx is Vinoy Park in St. Petersburg, Florida.
This festival has three different stages–the Rawsome stage, The Odyssey Stage, and of course, The Wave Stage.
You can find tickets here.
Tickets run between $80-110 and payment plans are available, as of the time of this writing.
---
OMF20XX Presents: The Wave Stage
Because MendoWerks Magazine has been focusing on wave music for two years and counting, we're going to take some time to explore each of the artists presented by The Wave Stage.
What is The Wave Stage?
The Wave Stage is a Florida-based music collective and record label that has been pushing the wave sound since its inception in 2020. Run by OMF20XX co-founder xTn (Christine Ngo), this label has released music from wave artists from all over the world, including SBU, Altare, Juche, Five Suns, KYLLER, and more.
Check out the most recent Wave Stage release, "Get Me Through," by Lorize, below:
The Wave Stage Lineup at Odyssey Music Festival 2023:
The Wave Stage has quite the selection of artists on their lineup this year, including Wave Stage label alumni, local favorites, wave scene leaders from all across the country, and more.
Check out each of the artists playing The Wave Stage, below.
First off, we have Yama, founder of Seattle's Human Error// collective, and one of the masterminds behind last year's Pantheon wave music festival. He also just so happens to make some fire tunes, as seen in his recent collab with REMNANT.exe, "DATASHARD". To get to know him better, check out our most recent interview with Yama, here.
Next, we have vibe.digital's BACKWHEN, who finds inspiration from a variety of genres like trap, wave, phonk, synthwave, and pop. He's also the founder of the influential phonk project, PURPLE POSSE, and was one of the artists who played Pantheon last year.
Up next is Djedi, co-founder of wave music's supergroup, vibe.digital, and one of the folks who helped to coordinate Pantheon 2022. He is also responsible for the coordination of the massive "wave tour" of 2023, featuring barnacle boi, brothel, and skeler. A masterful DJ in his own right, it's exciting to see him on a lineup as an artist this time around.
Beyond her work at The Wave Stage, xTn is a talented multi-hyphened musician who is returning to the OMF20XX festival stage for the second year in a row. Her set promises to be an exciting one–just read this line from her Spotify bio: "The Canadian singer-song writer-producer-musician-DJ has found her devoted passion of electronic music during her journey as a classical pianist for now 20+ years and meanwhile discovered her curiosity to expand her ideas and creativity outside her keys."
Another OMF20xx alumni, Florida-based Romeo is returning to the festival stage for his second year as well. His energy is contagious– "I'm a Misfit with no place to call home but with those who have been marked as the black sheep in this world. A kid with a big dream and a huge heart for those who feel like they have no one to rely on" (Spotify).
Bröther Bear, a St. Petersburg local, is the founder of Alchemy Productions, which is "a collective of creatives hosting a variety of uniquely curated events showcasing talented electronic & visual artists from the underground & beyond". His sound is quite diverse, ranging from "funky glitch hop to deep experimental dubstep." He finds additional inspiration in UK garage, jungle, grime, and more.
According to The Electric Hawk, saka "connects to fans through vulnerability and deeply emotional frequencies." To give you insight into his sound, he says that the songs on his most recent EP, Silk, "range from four on the floor, to dubstep, to drum & bass" but that "most of [his music] fits solidly under the 'experimental'/'leftfield' bass umbrella."
According to his website, Mr. Carmack's music is "an expression of experiences that [he's] had in [his] life up to right now." Sonically, his music exists in "the doorway between dance music and hip hop." Considering the fact that his travels and tours have brought him to five different continents in the last two years, it's no surprise that his sound is uniquely "identified by his contemporaries, fans, and himself purely as 'Carmack'."
---
Unsure if you want to go? Check out OMF2022's official after-movie:
Keep up on all things OMF20xx:
Facebook | Twitter | Instagram | YouTube
---
Are you enjoying MendoWerks Magazine? Receive updates each week directly in your inbox. Sign up for the newsletter here.
About Author