NYC-based modern rock quartet Tempt's latest single "Roses" is a must-listen for any rock enthusiast. Out now via Better Noise Music, this track is a celebration of the human spirit and the invigorating power of positive energy.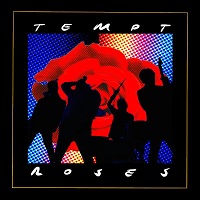 "Roses" was produced and mixed by Grammy Award-winner Chris Lord-Alge. He's known for his work with artists like Harry Styles, Foo Fighters, Muse, and others. Alge plays his part in helping to unlock the song's irresistible groove, catchy chorus, and mind-blowing guitar solo.
Lord-Alge himself commended the band, stating, "Working with Tempt was a blast. They are the real deal, with a rare combination of musicality, energy, and heart, which truly shines through in this new single. Their passion for their music and their fans is inspiring, and it was a joy to work with them on this project."
Experience The Music Video
Tempt brings their electrifying live performance to life in the music video for "Roses." Directed by Emmy-nominated Eric Steinhauser, the video takes you on a visual journey reminiscent of a captivating graphic novel.
With high-contrast black-and-white silhouettes exploding into colors, the video perfectly captures the concept of the song while embracing people with positive energy and spirit. Keep your eye out for social media influencer and choreographer Olivia Alboher, who playfully and elusively dances around the band, mesmerizing lead vocalist Zach Allen.
Meaning Behind "Roses"
Lead guitarist Harrison Marcello sheds light on the meaning behind "Roses." "It's a tribute to the people who uplift you and bring out the best in you. It's about embracing their infectious energy, being drawn in by them, and becoming part of their spirit."
Frontman Zach Allen shares his immense pride in "Roses," stating, "I'm immensely proud of what we've achieved with 'Roses.' It's a song that truly reflects who we are as a band—high-energy, infectious, and unapologetically rock 'n' roll." And this sentiment is truly evident in every aspect of their music.
Tempt: Paying Dues
Tempt has been paying its dues in recent years. They've headlining clubs across the country and sharing the stage as openers for legends like Bon Jovi at Madison Square Garden. They've also toured with iconic acts such as Iron Maiden, Shinedown, Alter Bridge, and Theory Of A Deadman.
Alongside the release of "Roses," they have two additional new singles scheduled for the upcoming months. These releases will provide a taste of what audiences can expect from the band's highly anticipated debut album, set to drop this summer via Better Noise Music.
Tempt expects to announce further details and upcoming tour plans in the weeks to come.
Connect with Tempt:
Website | Facebook | Instagram | Twitter | YouTube
Are you enjoying MendoWerks Magazine? Receive updates each week directly in your inbox. Sign up for the newsletter here.
About Author