If you were able to catch THE HARA at their first showcase during SXSW 2023 on Monday, or if you keep up with them through other means, then you already know the good news; if not, then we're here to tell you– "Autobiography", the band's sixth and final single in support of their upcoming debut LP, SURVIVAL MODE, is finally here.
Check out the exciting tell-all track on Spotify, below.
True to THE HARA's mission, this track is a little bit absurd, a little bit chaotic, and a whole lot of fun. I mean, just look at the lyrics, especially in the second half–
The lads are not only bringing us into a shared egotistical, manic-hypervigilant panic spiral of sorts– they even dragged grandma into this mess!!
Pairing all of this with THE HARA's excellent take on high-energy rock-n-roll– "Autobiography" is definitely a win.
Do be careful, though. After a few spins, you might find yourself walking down the street, quietly singing 'me, me, it's all about me, you know–' to yourself without realizing it. It's that catchy of a tune.
Speaking on "Autobiography", THE HARA told us that "It's truly a great song. We wrote it together in our home studio what feels like ages ago now, and we're opening with it on tour–we really can't wait to perform it more live."
Luckily for American fans (at least those based near Austin, TX), there's a chance they might be able to witness a live rendition tonight at The Velveeta Room, as part of the official Scruff of the Neck showcase. You can find more information here.
SURVIVAL MODE as an "Autobiography"
On another level, "Autobiography" by THE HARA is also extremely well-written in terms of the overall concept that the lads have been slowly unveiling since the end of last year. When you place this track in tandem with the rest of the singles they've released so far, the whole story starts falling into place.
Whether you've been following along via Cosmic Joke's music video series, or just by listening to the tracks themselves, you can piece together what it means to live through 'survival mode'.
"Autobiography" is the perfect song to end with, as it really ties the loose ends together.
The dissociative nature of the refrain–"you wrote me in the pages of your autobiography / why you looking back with your hand on a gun?"–is a gorgeous metaphor for the way prolonged hypervigilance can really mess with a person's sense of self–to the point of feeling disconnected from their own autobiography… to the point of wanting protection from it, or from themself.
When chaos becomes normal…
In the same vein, the opening couplet–"I took the wrong way home just to / force myself into survival mode"–isn't just a cheeky way to name-drop the album, but is an actual, real thing that people do when they're used to living in survival mode. They become chaos junkies, in a way. Peace becomes uncomfortable. Inadvertently, folks that are stuck in survival mode, or are used to that state of being, will find ways to stay there, or get back there. Because 'survival mode' is their comfort zone. It's what they know.
And when you've been there for long enough, it starts to feel normal. Leaving is what feels dangerous.
THE HARA really hit the nail on the head with this one; if "Autobiography" is the lead track to the band's concept album centered around "survival mode", then we can only imagine what other gems will be hidden among the bangers.
Then again, this is THE HARA we are talking about. The gems and the bangers are generally the same thing.
"Autobiography" isn't the end for THE HARA–
The band's full debut album is coming out on April 7th; this is the same day THE HARA are setting off on a UK/EU tour in support of SURVIVAL MODE.
You can find more information about the album, as well as the upcoming tour dates, on the band's website.
---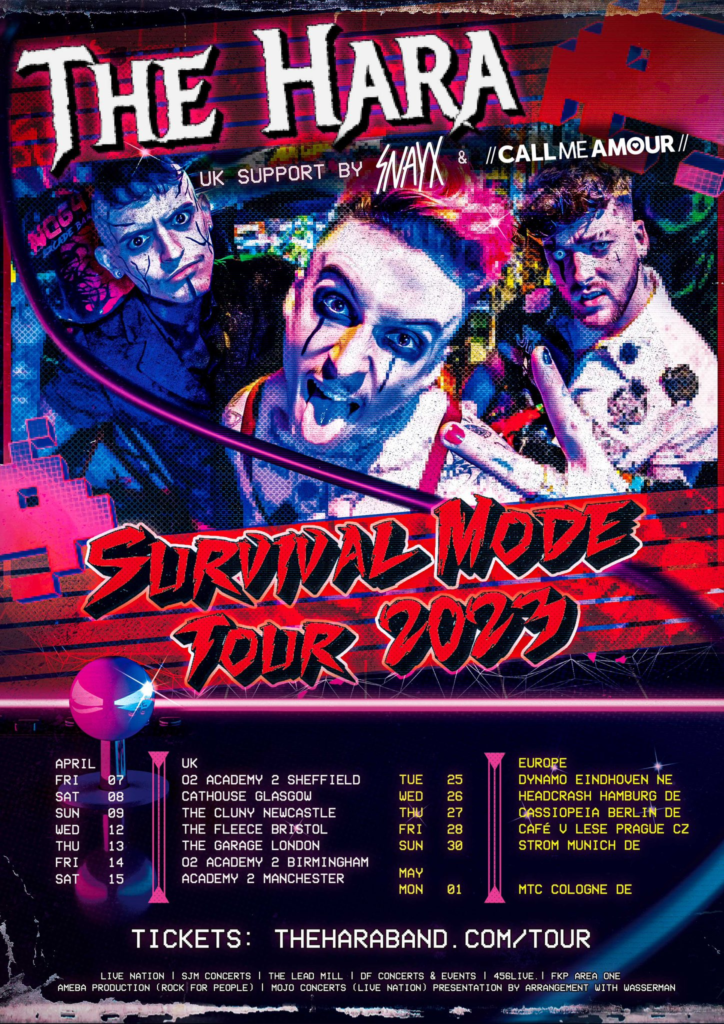 About Author