Michigan-based hard rock band Pop Evil has dropped their latest album, Skeletons along with a visual video for the title track. The deluxe digital box set called The Vault is also available for purchase. The set includes the full album, setlists, lyric sheets, behind-the-scenes content, VIP packages, and more.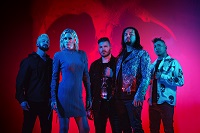 Lead vocalist Leigh Kakaty shared that the album's theme is about stripping everything down to the bones, adding bigger riffs, and capturing the energy of their live shows. "Overall, it's about looking at something in a positive way," Kakaty stated. Pop Evil worked with producer WZRD BLD (Disturbed, Papa Roach, Motionless in White) to create the album.
The decisions we make in our lifetime have an impact on the people around us. We have a choice to be kind or to be selfish on our journey. If you only think of yourself, you can end up alone.  We owe it to each other to be kind. We are all human.

-Kakaty
Pop Evil just kicked off their headlining Skeletons Tour. The Word Alive and Avoid will join them on the road. Pop Evil has established itself as a new rock'n'roll institution with its showmanship, relatable lyrics, and hard rock hooks.
The band has achieved four gold singles throughout their career, including "Torn to Pieces," "Trenches," "Footsteps," and "100 in a 55" from their debut studio album, Lipstick on the Mirror. Pop Evil's latest album Skeletons promises to continue their tradition of hard-hitting and honest music that fans worldwide have come to love.
Fans can purchase tickets for the Skeletons Tour on their website.
Connect with Pop Evil:
Website | Facebook | Instagram | Twitter
Are you enjoying MendoWerks Magazine? Receive updates each week directly in your inbox. Sign up for the newsletter here.
About Author