In case you haven't noticed, THE HARA have hauling ass lately. For starters, they dropped the fourth single off their upcoming album, Survival Mode, last week. The song is called "Okay, That's Me". The music video is due out this Friday…
Yes. You read that right.
The fourth single–and music video–for a full-length HARA album, are here.
I cannot contain my excitement.
Stream "Okay That's Me" on Spotify:
If you wanna know why I'm so excited, take a listen to "Okay That's Me" while I catch you up to speed on THE HARA's latest endeavors–tour announcements, album announcements, and music videos that will suck you in… literally.
They're far from done… and it's almost hard to keep up with it all!
Staying Vigilant: THE HARA are out to win SURVIVAL MODE.
After the completion of their We All Wear Black tour in the spring, THE HARA launched straight into a very busy festival season. They played nine different summer stages, including making their European festival debut at Rock for People in the Czech Republic. They were also able to surprise fans with a secret second set at Leeds this October.
Follow THE HARA's journey on Instagram:
During all of this exciting summer chaos, THE HARA also announced their European tour debut as support on Sueco's journey through Germany and The Netherlands. The band also announced the name and release date for their debut LP, SURVIVAL MODE, which is due March 3, 2023.
Prior to "Okay That's Me", the band dropped three other singles: "Rockstar", which was teased with a competition to win a special branded bottle of cherry vodka–
"Talk To The Manager", which provided us some insights into the inner workings of Hell–
And "Fire", which demonstrates THE HARA's dedication to their conceptual dreams in the best way.
What do you get when you combine the UK's best rock band with "the best video game ever"?
Apparently, it means an insane music video campaign that is better than some movies, honestly.
If you have been keeping up and just need a quick refresher, check out "Previously on Survival Mode", a recap video that was released earlier today:
SURVIVAL MODE's Videography Match Made in… Hell?
THE HARA's longtime videography partner is an independent, Manchester-based production company called Cosmic Joke. Despite being responsible for transporting the lads to Hell, I think THE HARA x Cosmic Joke is a match made in heaven. THE HARA have a specific energy, and I think that Cosmic Joke has been able to capture it perfectly.
Together, Cosmic Joke and THE HARA have turned SURVIVAL MODE into an experience.
The music videos follow the lads as they navigate their way through multiple levels of "the best video game ever" of the same title. "Okay That's Me", their fourth single, marks the fourth "level" that THE HARA must beat in order to free themselves from their digital Hell– aka SURVIVAL MODE.
Level One: Rockstar
It's easy to throw money at some music videos and make them look passable. But, it's another thing all together to have the concept work well and have the whole team's collective passion shine through in the final product. It's evident to me that everyone involved here truly believes in SURVIVAL MODE— the album, the companion content, all of it.
As corny or cheesy as the "sucked into a video game" concept itself may seem on the surface, it's true to THE HARA's brand– it's fun, chaotic, a little bit absurd…
But overall, this video campaign is a clear example of how THE HARA are taking rockstardom to a whole new level.
They don't have to tell anyone that "their brand" is authenticity, that they're like no other band in the game right now, or that they're all about true rock n roll–because they're living it. They exemplify it.
Everything that THE HARA does supports this notion and is 100% authentic to them.
It's a breath of fresh air, especially in a world where so many artists talk the talk…but don't quite hit the mark.
Level Two: Talk To The Manager
THE HARA doesn't have anything to prove to anyone; they're just doing them…and it works.
As a result, there is no need for an active sense of suspension of disbelief from their audience because the band and their team believe in their concept enough for all of us.
And that commitment is everything.
It's beautiful to witness both on stage, and on video.
These videos got soul… but hopefully no one had to actually sell their soul to The Devil in the process to make it happen.
Interlude: Interview With The Devil
This "filler" piece is the one that really got my attention.
I never thought I would find myself relating to the Devil, but you know what? This quote from his 'interview' really resonated with me:
"I'm fucking depressed down here. Need a bit of light in my life, you know what I mean? But we've got THE HARA for that. To be honest, THE HARA a have helped me a lot…"

– "Satan"
This video might be the silliest of the bunch, but it emanates the good-time-vibes that THE HARA embody.
I've always left HARA gigs feeling leagues better than I did going in–and these music videos possess that same energy.
Watching them has been defeating my seasonal depression, one level at a time.
Level Three: Fire
Released on Halloween, "Fire" is the lads' take on creating a horror film. In the days leading up to its release, I was a bit worried that they might not be able to pull off blending together the three concepts–the video game immersion with all of the different horror tropes with the song itself–because it almost seemed like 'too much'.
But that was my mistake.
"Too much" is exactly the medium that THE HARA thrives in.
I don't think they can do anything below 110% effort.
The video honestly turned out great and streaming it might become a new Halloween tradition of mine.
Level Four: Okay That's Me
Level 4, "Okay That's Me", is due out at midnight on 2 December.
I can't wait to see what is waiting for THE HARA this time around.
Survival Mode: THE HARA are coming soon, to a venue near you.
Once they're freed from their video game escapade, THE HARA is headed back out on tour.
Their UK tour in support of SURVIVAL MODE begins April 2023.
Get your tickets here.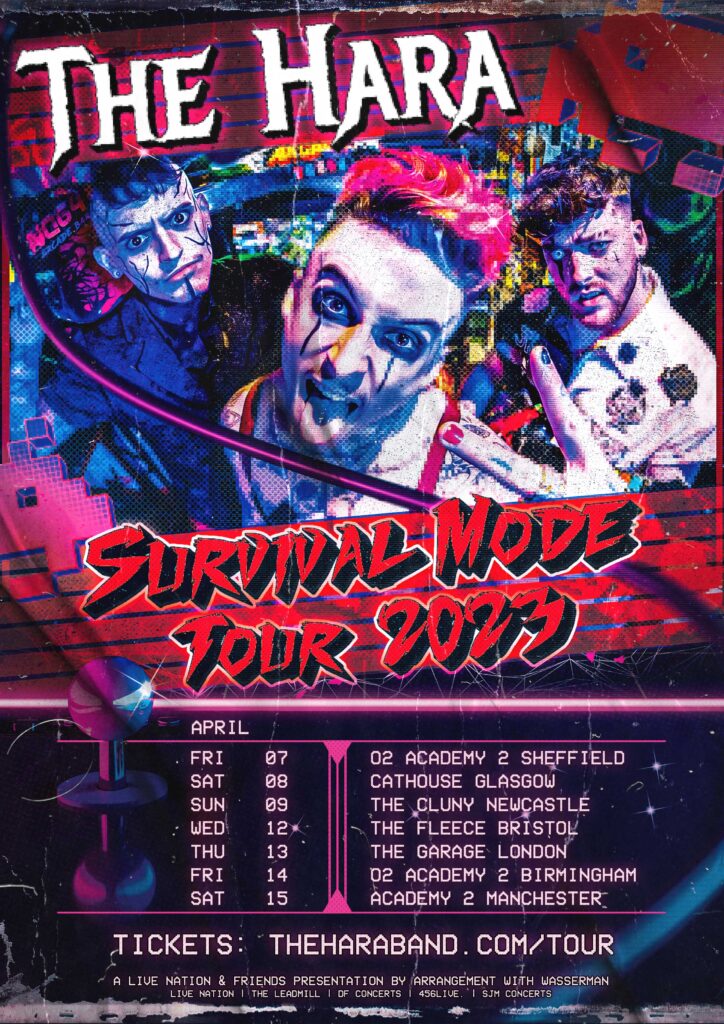 I can only hope that the second half of 2023 brings them to the US at last.
Perhaps I'll have to give the Devil we all know so well a call and work out a deal…
Keep in touch:
Connect with THE HARA across social media platforms:
About Author