THE HARA has a new single out and it is definitely one of my favorite August rock releases…. Emotionally-charged, high energy, and perfect for screaming along to–"Fool & The Thief" is everything I love about rock music.
Check it out on Youtube below:
Released on August 20th through Scruff of the Neck Records, "Fool & The Thief" by THE HARA is somehow both contemplative and a call to action. It is perfectly cinematic in that way. The song builds on itself organically, layering in beautifully-blended instrumentals and powerfully-delivered vocals throughout. By the end of my first listen, I was awed by the sheer power and beauty of it.
Clearly, I had to listen again… and again… and then send it to everyone I know. Before long, it was on all of my playlists and I was shouting along every time it played. I didn't even realize I had learned all the words.
"Fool & The Thief" simply is one of those special, cathartic songs like that. I highly recommend you give it a try.
Listen to THE HARA and "Fool & The Thief" on Spotify:
For further listening, other epic tracks from THE HARA include "Friends", "Red Mist", and "Tokyo Hit". These guys have a lot of variety in their sound and tons of passion packed into everything that they released.
Folks just don't make rock music like this any more. You just can't go wrong with a HARA track.
MEET THE HARA
THE HARA is a Manchester-based alt rock trio consisting of Josh Taylor (frontman), Zack Breen (guitar), and Jack Kennedy (drums). They're no strangers to delivering A+ music: the band has an impressive chart history, including several #1 placements, like with their latest EP, Play Dead, which hit #1 across All Genres on iTunes.
Whenever a band has their name in all caps, I always think that it's an acronym for something. But fascinatingly enough, "THE HARA" doesn't stand for anything; the name is actually the result of a sign–both in the literal and metaphorical sense.
The band goes into detail about this on their website:
"THE HARA name came about accidentally, out of frustration. Having decided to launch the band, they explored many names, but all were taken or not available. Whilst having a few beers and a barbecue, Josh, joking, suggested 'THE HARA' as the barbecue itself was called 'Sahara' with 'Sa' barely visible, hence 'THE HARA'. Then googling the name, they were surprised to find that the domain and all the major social platforms were available. [They also found that the word 'HARA'] had origins in Japan and is a term for a specific area or energy field around the lower abdominal […] referred to as a 'sea of energy' […] Liking the connection with the body and references to infinite energy, the band instantly connected with THE HARA."

from <https://theharaband.com/about-us/>
See what I mean?
It's a sign– "THE HARA" was meant to be. It's also clear that the guys are onto something with this whole 'hara alignment' thing because they've got nothing but boundless energy and raw creative power.
After all, they say that their music is "written for a live audience and festival stages…[to] inspire moshpit carnage in any crowd."
That energy is apparent, even in my earbuds.
Want to learn more about THE HARA?
Check out the Q&A video from the band's YouTube as well as an interview from last weekend's Reading Festival below.
KEEP IN TOUCH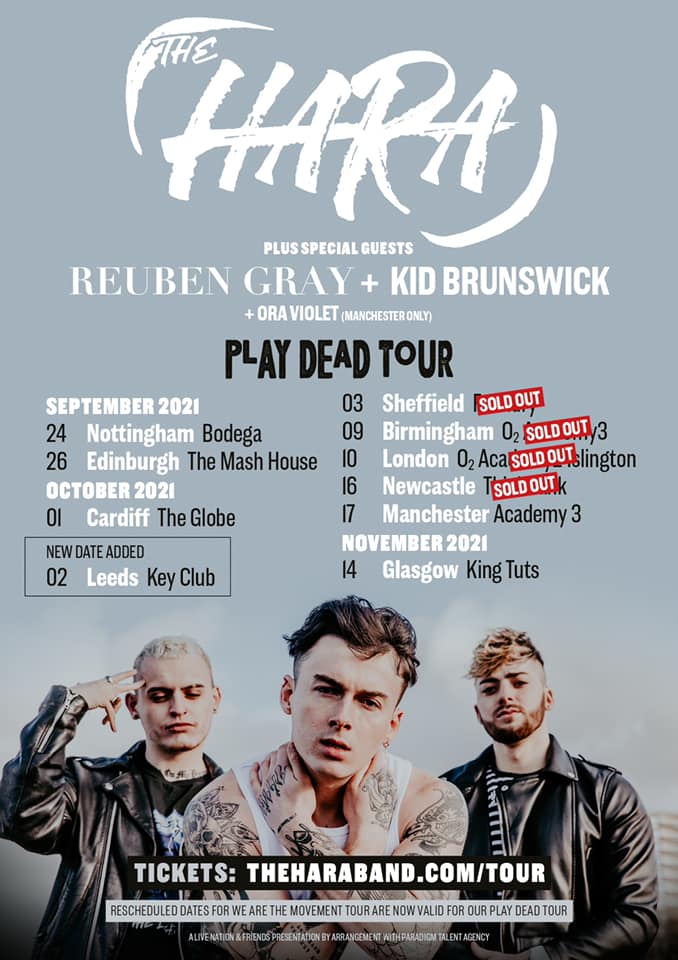 You can find the band on social media and stream their music on all major platforms. Check out their website here.
THE HARA are playing a few festivals and then going on a UK tour with Reuben Gray and KID BRUNSWICK. Get tickets here — dates are selling out!
About Author