Listen up, folks: we are but a mere day away from North America's biggest wave music festival (ever!): Pantheon 2022.
If you don't know what I'm talking about, or if you find yourself a bit overwhelmed by it all, then this special Pantheon edition of Breaking Waves is just for you!
In this first volume, we are going to check out some of what the promoters have been up to in preparation of this event, and do a quick dive into the artists featured on "Day 0."
We will cover the 30-odd artists playing through the rest of the weekend in a subsequent edition. Stay tuned!
So… Pantheon? Like in Greece?
No–in Seattle, WA.
This 'Pantheon' is a three-day wave music event spearheaded by prominent US-based figures–Djedi of vibe.digital, RamonPang of Soul Food Music Collective, and YAMA of Human Error//. The festival is taking place this week, starting on Thursday, December 1st at High Dive. The rest of the event takes place through the weekend at another venue, Substation.
There will be over three dozen different wave-affiliated artists coming together from all over the world this weekend. Something that has been expressed to me more than once is this: Pantheon 2022 is special because "it may be one of the last times you'll find all of these people on the same line-up, in the same room…"
As already noted by Alessio Anesi of FUXWITHIT, this event will most definitely be "the grand finale of [an] already memorable 2022" for the wave community.
Before we spend a little time with each of the featured artists, let's take a peek at what the teams have been preparing for us.
A Taste of Pantheon 2022, brought to you by Soul Food.
Soul Food Music Collective has been hand-selecting tracks from various artists on the line-up for Pantheon pilgrims to try out. If you don't already follow them on Twitter, I highly recommend that you do so before the weekend is over.
For your convenience, here is a link to that thread.
We'll now begin a thread highlighting artists on the Pantheon lineup by hand-selecting tracks from their discographies to showcase 🌐

Pantheon Pre-party Tickets : https://t.co/YygnkAei6K

Pantheon Tickets : https://t.co/Y1wKkGktTb pic.twitter.com/VUWURZnRyW

— Soul Food Music Collective (@SoulFoodMC) November 7, 2022
Among their picks is some new REMNANT.exe, a Sable Valley release from Eastghost, and a RamonPang x w/out track that I've personally never heard yet.
Go nuts.
---
The Latest from HE//
As promised in his Breaking Waves feature, here is the extended Pantheon-edition of our interview with YAMA:
AM: This next one might have an obvious answer, but how excited are you for Pantheon? Scale of 1-10?
YAMA: 11, easily. This is the largest gathering of the Wave community to happen yet, and the fact that we have damn near every wave producer in the United States pulling up has me excited at the collaborative prospects on the table. Post-Pantheon depression and insane collab releases are going to hit the scene like a train for sure.
AM: What can you tell me about the booking process for all this? How was it working with Djedi & RamonPang?
YAMA: The booking process is honestly less crazy than you would imagine. The thing about the wave scene is we're all friends; we got a twitter group where we talk like every day, we're all just in this shit together so the process of booking has a seamless flow.
Working with Djedi and Ramon, as well as their teams, has been amazing. The communication and planning that we've had has been absolutely on point, and I have the utmost respect for these guys.
Funnily enough, Human Error// exists as it is now because back in 2018, Djedi let my scrappy street kid ass throw a last-minute show at a dive bar with him and Skeler for $200.
To be able to put in the work into our scene over the past few years and spearhead this event is a proud moment for me outside the obvious reasons because it's a moment where I showed someone I respect that I have the tenacity to work my way from the bottom and do something substantial.
AM: Was Pantheon 2022 always intended to be a 3-day event?
YAMA: It was definitely originally intended to be a smaller-scale, 2-day event with a tamer vibe.
However, it rapidly began to snowball into the insanity it is now.
Part of what drove us to take the chains off was seeing people here in the US lamenting having to go overseas to experience wave on a large scale at events, such as Poland's Czelusc festival and Russia's Arcadia festival.
A solid majority of wave producers are based in North America, and some of the biggest acts in the scene are from the US, so it didn't make sense to us that we didn't already have something of this scale yet.
AM: How does Pantheon 2022 compare to the original event that you put on in 2019? …Is it even comparable
YAMA: I personally consider Pantheon 2022 to be a total reboot. The scope of this is tenfold of the 2019 gathering and the plans for the future continue the epic scaling.
Pantheon 2019 was special because it was fairly intimate, and more of just a closer inner circle, but with Pantheon 2022, and moving forward, we're focused on providing the definitive wave experience for the United States.
---
Vibing Through Recent History
While vibe.digital has had some excitement on the agency side of things this year with Phozee joining the team–and, of course, with M!NGO & Djedi getting booked for Pantheon 2022 this December–
I want to take a moment and turn our attention the other mastermind behind this impressive team: Fyoomz.
The archival work that vibe.digital coincidentally does by way of their long-running podcast is incredible; the history that Fyoomz preserves every year through his "Best Of" episodes is even more incredible–at least to me.
If you have the time, I highly recommend checking out last year's selections. It contains over a dozen Pantheon artists and is an incredible mix.
Check out vibe.digital's "2021 wrapped" podcast episode on SoundCloud:
Even without its Pantheon relevance, this mix is a great reference point to see how far the scene has come in a year–or is a great entry point, if you're new to wave music.
---
Pantheon Roll Call
Curious about an artist playing at Pantheon? You're in the right place.
Think of this as the "wave white pages". A starting point.
Scroll on!
Day 0
Unveiled one week after the festival's initial announcement, Day 0 is a Pantheon 2022 "pre-party" that features talent from all across the globe.
It takes place on Thursday, December 1st, at High Dive in Seattle, WA.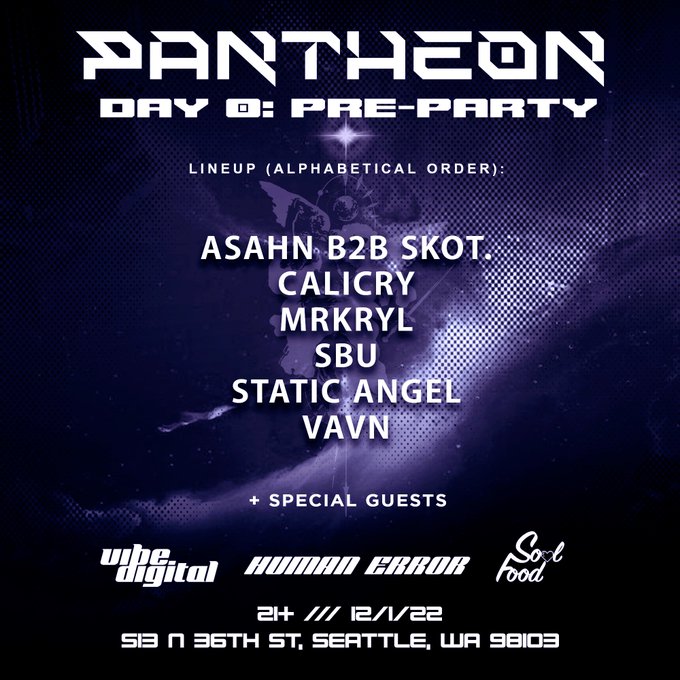 Find Day 0 tickets here.
ASAHN B2B SKOT.
Brought to you by Soul Food Music Collective–this duo's joint set makes for a great introduction to their roster. It's also the only B2B of the night, which makes it even more special.
Definitely not one to miss.
Check out ASHAN's newest release here. Find SKOT.'s latest, a wardub, here.
Find more information and connect with the artists via their Soul Food profiles:
Listen the artists on SoundCloud:
calicry
calicry is an independent wave artist who promised an all-original set this Thursday night via her Twitter.
To be honest with you, I've wanted to see a calicry show since I first started listening to her in May. Check out her newest track here.
Catch up with calicry on social media: Twitter, Instagram.
Listen to calicry on SoundCloud:
MRKRYL
Similarly, I've been looking for an opportunity to attend my first MRKRYL show. As one of the pioneers of the scene, it was great to see her name listed alongside newer talent.
It will be awesome to see how she brings her "#youdecide" sound to a live setting.
Connect with MRKRYL on social media: Twitter, Instagram.
Listen to MRKRYL on SoundCloud:
SBU
After witnessing his sets at July's vibe.digital rooftop show in Brooklyn, all I can think about is SBU, honestly. It wasn't just a show–it was an experience.
If you are unfamiliar with SBU's live performance, all you need to know is this–the vibes are immaculate, and you will have an absolutely wonderful time while he's at the decks.
Here is his most recent release.
Connect with SBU on social media: Instagram, Twitter.
Listen to SBU on SoundCloud:
#L3G
Static Angel
Since I was first introduced to Static Angel through her incredible performance at the Liquid Ritual "Conference" in April, she has kept me absolutely captivated. Check out their EP from July here, or their latest single here. You can't lose.
Keep track on all of her happenings via her linktr.ee.
Keep up with Static Angel on social media: Twitter, Instagram.
Listen to Static Angel on SoundCloud:
VAVN
I really appreciate VAVN's dedication to authenticity: "I have put my heart and soul into my music with the intention of representing Denver in its purest form. I have been inspired by those who came before me and hope to create a new path." (quote sourced from artist's Spotify bio).
He's spent some time this year to "take a step back and find [himself] as an artist." I genuinely look forward to seeing what that means as far as his set at Pantheon is concerned.
Keep up with VAVN through his linktr.ee.
Connect with VAVN on social media: Twitter, Instagram.
Listen to VAVN on SoundCloud:
Can't Get Enough Wave Music?
While you wait for volume 2 of this "boot camp" series, check out this playlist that the Cyberwave Collective curated in anticipation of this historic event:
Going to Pantheon? Want to chat about wave music while you're there? Contact Ambur.'
Want more wave music? Check out past issues of "Breaking Waves".
About Author