In case you missed it, Nick Neutronz is 'back on his bullshit', as the kids say. He released "The Changes" earlier this month, and quite frankly, it changed me.
Nick Neutronz is someone we all really need to keep a better eye on–because when Nick puts out new music, we can never know what to expect. In the best possible way.
Let's look at some examples from 2022: in December, he put out this dark, moody, lights-down-low-at-the-club type banger of a collab with lonewulf, "Pyrex". Yet, in June, Nick dropped this little high-tempo, all-encompassing, like-an-emotional-plea-but-could-still-probably-end-up-on-the-radio track called "Surrender".
But, let's not forget how he started the year off, either–with "Hikikomori".
Alessio Anesi of FUXWITHIT describes that song best: it's "hallucinating and psychedelic" and transports listeners to "a moment outside of space and time".
So where does "The Changes" fall on the Nick Neutronz scale?
Listen and find out.
Find "The Changes" by Nick Neutronz on Spotify, below.
The range of styles and emotions that Nick can depict (and depict well) shouldn't be surprising at this point, but if I'm honest, this track practically knocked me to my knees the first time I heard it.
Something about this song compelled me to literally sit down, and… lean into it (despite the fact that I had just set off on a walk).
Y'know–it was like my brain heard the first two measures and decided it was time to cease all operations and just… *listen*.
My mind cleared; the six trains of thought that I had going were just…gone.
In terms of ethos, "The Changes" seemed to be a lot like "North Node" in that way, but not quite. I think I cried? I had a bit of a moment in that parking lot–I won't lie to you.
My first listen was more of an experience.
Soul-searching and lost metaphors
The best way that I can describe "The Changes" is that it lands somewhere near the climax of your favorite action/adventure fantasy type video game, during the cutscene, where the camera zooms back and you can literally see the bigger picture of what's going on… and, like, the point in some absurdly popular movie about the human condition in whatever genre you prefer that's got you hanging on the edge of your seat no matter how many times you watch it–
In other words, this song captures that "past the point of no return" moment, the one where you realize just how high the stakes are—or just how small you and your problems are–absolutely perfectly.
There's a fine line that Nick Neutronz is toeing with "The Changes": he keeps the intensity at a level that will suck listeners in, but will also inspire an emotional response of the same caliber, too. This song is loaded with purpose. It's contemplative, but in a "grand scheme" way.
As far as "emotionally-driven electronic music" goes, Nick is most definitely a master.
Listening to "The Changes" should do your soul some good, especially if you feel like you've lost your way in some capacity.
Get ready to cry in the club…
My biggest compliments to Loss Combinator for recognizing the gem that is Nick Neutronz by way of booking him for the next Tears in the Club showcase. My only wish is that I was based on the west coast so I could come.
While Nick Neutronz may not be remembered as one of the fathers of wave music in the same way someone like Kareful will be, I'm grateful that he's here to help define the genre now. His "terraform" take on electronic music adds this gorgeous, naturally-derived edge to familiar sci-fi infused beats—
And I'm soooo here for it.
It's insane to suggest that someone "has come a long way since his Grammy days" but in the case of Nick Neutronz, it's true. This artist has earned his accolades 10x over—and only continues to get better and better every time he opens his DAW.
So, if you want to witness a mind-blowing show, head to LA on April 7th.
You'll be able to see Nick Neutronz play alongside other phenomenal artists like Juche, WEVLTH, Sage, and others.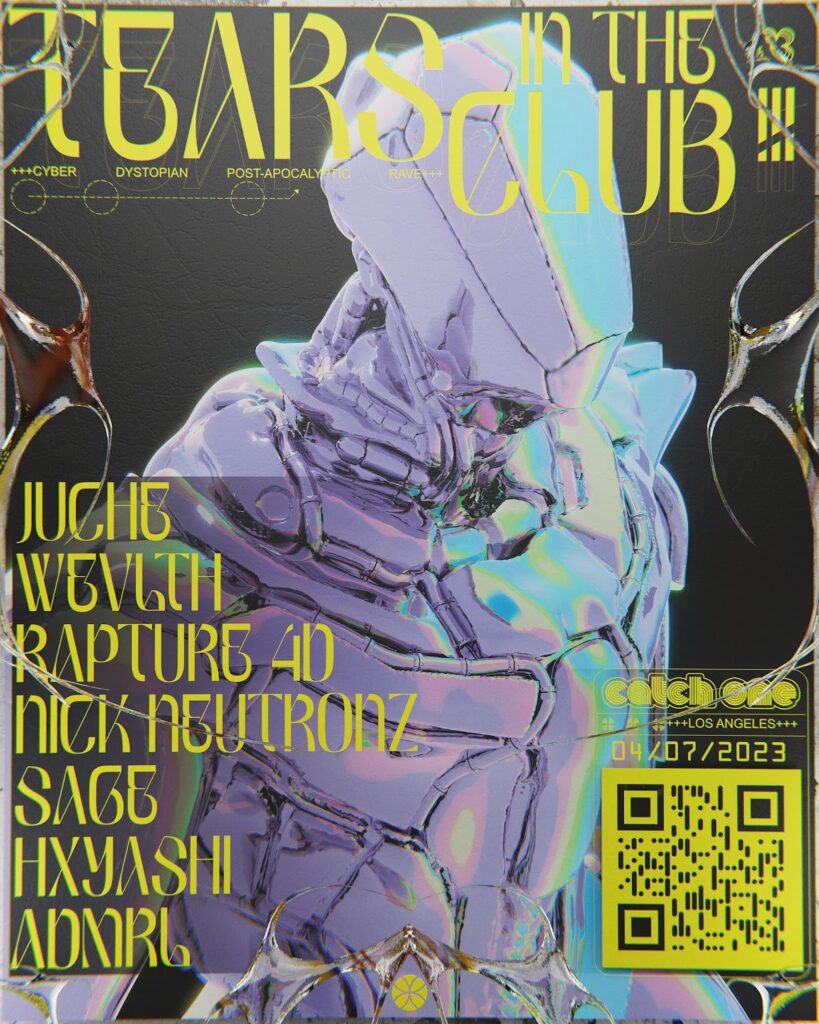 ---
Keep up with Nick Neutronz:
Want more wave music? Check out February's "Wave Wrapped"!
About Author