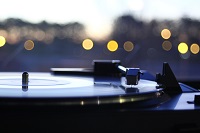 Heading into the new year there is a lot of new music to be excited about. Here's a look at 5 January album releases that should be on your radar. Streaming is fine but please consider supporting your local independent record store. Purchasing stuff directly from the band is cool too!
1. The Subways – Uncertain Joys
Release Date: January 13th
The Subways have been picking up momentum since their new album was announced in early 2022. You can listen to the band themselves discuss new music and their experience on the popular FOX television show The OC on the OC Podcast with hosts Rachel Bilson and Melinda Clarke. Expect an active touring schedule for The Subways in 2023.
Artist links: Website, Instagram & Twitter
2. Måneskin – Rush!
Release Date: January 20th
Few bands have garnered as much buzz over the last 18-24 months as Italian alt-rockers Måneskin. Pressure is on to deliver on the new album Rush! but all signs point to them coming through. If you're like us and were struggling to pronounce the bands' name when you first found them, you can confirm that pronunciation here.
Artist links: Website, Instagram & Twitter
3. Kimbra – A Reckoning
Release Date: January 27th
Kimbra released her debut album Vows in the summer of 2011 and had songs of hers featured on shows like Grey's Anatomy and in video games like The Sims 3. She was featured on the breakout song by Gotye. "Somebody That I Used To Know". A Reckoning will be Kimbra's fourth studio album.
Artist links: Website, Instagram & Twitter
4. You Me At Six – Truth Decay
Release Date: January 27th
English alt-rockers You Me At Six are back with their eighth studio album Truth Decay. Frontman Josh Franceschi is mindful of the recent pop-punk revival and had this to say. "We saw people around us, our peers, and some new blood coming through that were doing emo rock music again and we thought 'well we know how to do that and we want the world to know how we do it".
Artist links: Website, Instagram & Twitter
5. Smashing Pumpkins – Atum Act II
Release Date: January 31st
90s-icons The Smashing Pumpkins are releasing their new 33-song album in three stages. In January, we get to stage two, Atum Act II. You can expect Act III this spring. 'Atum' is pronounced like 'autumn' in case you were wondering.
Artist links: Website, Instagram & Twitter
Are you enjoying MendoWerks Magazine? Receive updates each week directly in your inbox. Sign up for the newsletter here.
About Author