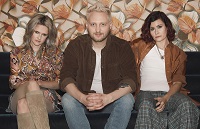 British alt-rockers The Subways recently appeared on a popular podcast recounting their appearance on the FOX television show The OC. Welcome To The OC, Bitches is hosted by Rachel Bilson and Melinda Clarke. The podcast takes the audience back to the early 2000s when The OC was one of the biggest hits on television.
The Subways are part of an exclusive club of musicians who performed on the show. The Bait Shop was a fictional venue that also saw performances from The Killers, Modest Mouse, Death Cab For Cutie, and others.
Billy Lunn (vocals, guitar) and Charlotte Cooper (vocals, bass) appeared with Bilson and Clarke to talk about their experience on The OC and what they have coming next. You can watch the full episode here. And you can relive their performance via The Subways YouTube channel.
The Subways New Album
The new Subways album Uncertain Joys is set for release on January 13th. This will be their fifth studio album and first since 2015. Produced by frontman (and producer) Lunn, the album was mixed by Grammy winner Adrian Bushby (Muse, Foo Fighters) and mixed by Katie Tavini (Mykki Blanco, Arlo Parks).
Check out the lead single from the project released last spring "You Kill My Cool". The band's latest single "Love Waiting On You" features an innovative 8-bit animated video. You can pre-save the new album now at your favorite streaming platform.
For more information and to connect with The Subways, stop by their website or follow along on Instagram and Twitter.
Tracklist: Uncertain Joys
You Kill My Cool
Love Waiting On You
Uncertain Joys
Incantation
Black Wax
Lavender Amelie
Fight
Influencer Killed The Rock Star
Swanky Al
The Devil and Me
Joli Coeur
Futures
Enjoying MendoWerks Magazine? Receive updates each week directly in your inbox. Sign up for the newsletter here.
About Author