The Subways are back with a vengeance. The UK alt-rockers have just released their new single "You Kill My Cool." The track is a fierce, guitar-driven rocker that will get your blood pumping. With its catchy chorus and pounding beat, "You Kill My Cool" is sure to be a crowd favorite.
The band is set to include the track on their new album due this fall. The Subways debuted in 2005 when the average age of its members was just 18 years old. Veterans of the scene now, they've got four studio albums under their belt. And that includes work with legendary producer/drummer Butch Vig (Nirvana, Garbage, etc) on their sophomore release.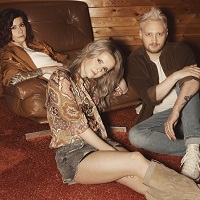 Like many acts, momentum was stunted as a result of the pandemic. They were forced to cancel their 40-date Young For Eternity Anniversary Tour and instead turned their focus to recording album number five. Frontman Billy Lunn has come into his own as a producer and songwriter. He hunkered down in his Hertfordshire studio while Charlotte Cooper (backing vocals, bass) and Josh Morgan (drums) focused on playing their parts remotely.
"You Kill My Cool" was written at a time when I felt love so strongly that I wanted to be consumed by it, to give myself over to it entirely...You become ecstatic, beside yourself, and not what you were before. Time stops but moves too quickly, you grow but you also diminish, you feel pleasure alongside immense pain.

-Billy Lunn
Lineup Change Announced
The Subways announced in the fall of 2020 that founding member Josh Morgan would be leaving the band for family reasons. But not before finishing up all the drum parts for the new album. Drummer Camille Phillips (formerly of The Ramonas) was added to the lineup.
As a result, they were able to reschedule and play makeup dates on the previously canceled anniversary tour. In January of this year, Phillips was announced as The Subways' new permanent drummer. So, while not featured on "You Kill My Cool", she'll be featured on all upcoming shows and studio recordings.
As of now, the band is keeping busy with scheduled dates in Europe through the fall of this year. For more information and to keep up with any potential US dates down the road, you can link up with The Subways on their website and/or follow along on Instagram and Twitter.
MendoWerks would love to hear from you! Submit your music now for a review.
About Author