It's been five years but Scottish rock icons Biffy Clyro are back in America for a series of high-octane concerts. After opening stadium dates for the likes of Foo Fighters and Muse, the band has earned a reputation for their impressive live shows. But it's not really about who they've opened up for, they've amassed a worldwide fan base on their own.
Biffy Clyro's tour kicks off at the House of Blues in Chicago on Sunday. Highlights include shows at New York City's Irving Plaza, Shaky Knees Festival in Atlanta, and The Fillmore in San Franciso. If you've never heard of these guys and you're a fan of alt-rock anthems, it's time to get on the bus.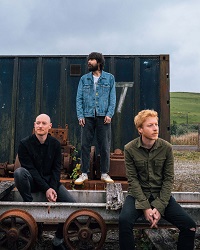 Their latest single "A Hunger in Your Haunt" is working its way up rock radio charts. But unfortunately, while they've had a few modest hits over the past decade+, they've flown a little under the radar. Perhaps they don't fit the mold of what is perceived as what a radio hit should sound like. But in this writer's humble opinion, that's one of the many reasons they're one of the best bands on the scene today.
While I'm sure they'd love to have a dozen #1 records under their best, who wouldn't? They've stayed true to themselves and at the end of the day, that's better than any fancy plaque on their wall.
…and then the world stopped
Biffy Clyro had just finished recording A Celebration of Endings when the pandemic struck and the world shut down for a time. They chronicled the experience in the documentary Biffy Clyro: Cultural Sons of Scotland which is definitely worth the one hour and six minutes of your time. Streaming now on Amazon, the film takes you on a journey as they record their ninth and most DIY record to date.
Released in the fall of 2021, The Myth of the Happily Ever After has quickly become a fan favorite. Frontman Simon Neil calls "A Hunger in Your Heart" 'a self-motivating mantra'. You can expect to have Biffy Clyro leave it all out on the stage every night.
Be sure to link up with the band on their tour page for ticket information and follow along on Instagram and Twitter if you're feeling adventurous.
Biffy Clyro US Tour Dates
Sunday, April 17 – Chicago, IL – House of Blues
Tuesday, April 19 – Washington, DC – 9:30 Club
Wednesday, April 20 – Boston, MA – Big Night Live
Friday, April 22 – Toronto, ON – History
Sunday, April 24 – New York, NY – Irving Plaza
Monday, April 25 – Philadelphia, PA – Union Transfer
Friday, April 27 – Columbus, OH – Newport Music Hall
Thursday, April 28 – Nashville, TN – Brooklyn Bowl
Friday, April 29 – Atlanta, GA – Shaky Knees Festival
Sunday, May 01 – Dallas, TX – The Echo Lounge & Music Hall
Tuesday, May 03 – Phoenix, AZ – Marquee Theater
Wednesday, May 04 – Las Vegas, NV – House of Blues
Friday, May 06 – San Francisco, CA – The Fillmore
Saturday, May 07 – San Diego, CA – Music Box
Monday, May 09 – Los Angeles, CA – Belasco Theatre
MendoWerks would love to hear from you! Submit your music now for a review.
About Author