Rockers Weapons Of Anew have re-emerged with a recharged lineup and a brand new single. "Break The Ties" will appear on the band's new album due in 2023. The track is their first release with new singer Richie Hume and drummer Lun'iah Fontana.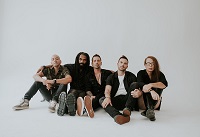 This will be the second studio album for Weapons Of Anew after releasing The Collision of Love and Hate in 2017. A planned 2020 album release was delayed due to the onset of the pandemic. They did release a single from the project at the time, a cover of The Chainsmokers' "Sick Boy". The track had success on rock radio charts and has accumulated more than a million streams to date.
The band would undergo lineup changes in 2021. They opted to re-record songs for what will be their 2023 release, The Art of War.
Getting To Know Weapons Of Anew
The band consists of new blood Hume and Fontana with longtime guitarists Freddy Ordine and Kevin Hicklin with Reno on bass. Originally from New Jersey, they've since relocated to Florida.
Ordine spent time on the road with producer/guitarist Logan Mader (Once Human, Machine Head) and the two hit it off. Mader was invited to the studio with the band and the connection was apparent. "Break The Ties" was the first song written for Art of War and is now available on your favorite streaming platform.
I couldn't be happier with how this song came together and turned out. It had our New York attitude and Logan's west coast vibe. We really nailed the direction I wanted to take Weapons in. Logan was just amazing to work with!

Freddy Ordine
For more information and to connect with the band, visit the official Weapons Of Anew website or follow along on Facebook and Instagram.
Enjoying MendoWerks Magazine? Receive updates each week directly in your inbox. Sign up for the newsletter here.
About Author