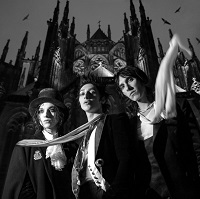 Talented art rock trio Palaye Royale have released their highly anticipated new single. On top of that, they've announced the release date for their new album. "Lifeless Stars" will be included on Fever Dream and will be released on October 28th.
If you're just getting to know Palaye Royale, their music can be described as equal parts brit-pop, glam rock, and art-punk. It's a family affair as the band was formed in 2008 by three brothers Remington Leith (vocals), Sebastian Danzig (guitar), and Emerson Barrett (drums). Sebastian, the oldest of the Kropp brothers, was born in Canada but they moved to Las Vegas shortly after birth. As teenagers, they moved to Los Angeles where they paid their dues in the local rock 'n' roll scene.
On The Road
Over the years they've developed a passionate fan base who have connected with their brand of adrenaline-fueled rock and roll. Fresh off a sold-out tour of the UK and Europe, Palaye Royale is currently on tour with Mod Sun. They'll be performing at the highly anticipated When We Were Young Festival in Las Vegas on October 22nd and 29th.
For ticket information visit their website. For additional updates follow along on Instagram and Twitter.
Tracklist: Fever Dream
Eternal Life
No Love In LA
Punching Bag
Broken
Fever Dream
Line It Up (feat. LP)
Toxic In You
Wasted Sorrow
Paranoid
Oblivion
Lifeless Stars
King Of The Damned
Off With The Head
Enjoying MendoWerks Magazine? Receive updates each week directly in your inbox. Sign up for the newsletter here.
About Author