'Vengeance,' the directorial debut of 'The Office' star B.J. Novak, is a sharply observed Texas-based noir that explores more territory than you might expect.
Novak wrote, directed, and starred in this darkly comic thriller as somewhat of an aimless journalist named Ben Manalowitz looking for his ticket to success.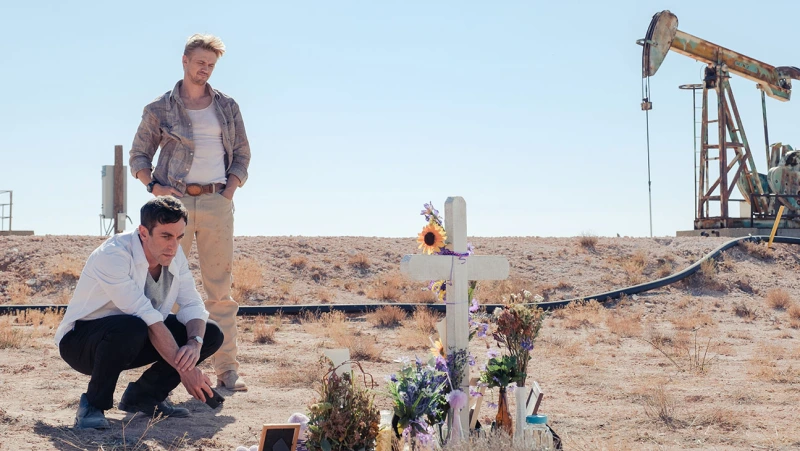 An Unexpected Trip to West Texas
His career is on a decent path, but his ambitions are higher. His love life is fleeting, with an iPhone full of women that he identifies mostly by where he met them to jog his own memory. Callous and selfish, his tendency is to sacrifice genuine relationships for brief moments of pleasure.
Ben's life changes when he gets a phone call from a man named Ty (Boyd Holbrook) in Texas whose sister Abby has died. Her family thinks Ben is his girlfriend in New York City – a story she has fabricated to them even though she has only hooked up with him a few times.
Ty is convinced she was murdered and for Ben this is a potential opportunity. Soon he's on a plane to Texas and proposing a hit podcast thoughtlessly referred to in the beginning simply as "Dead White Girl."
Issa Rae adds a lot of comic relief as Ben's podcast producer Eloise who does her best to reign him in from New York City and even gets him connected with NPR to boost his investigation and profile.
The supporting actors are all very well cast, but the biggest surprises are the wild turn from Holbrook as Abby's well-intentioned but very intense brother and Ashton Kutcher as a local music producer who had been helping Abby follow her dreams. J. Smith-Cameron ('Succession') and former Disney Channel star Dove Cameron (no relation) also have great moments in much smaller roles as Abby's mother and one of her sisters, respectively.
The Verdict
Lyn Moncrief's widescreen vistas beautifully capture the intensity of West Texas while also intimately exploring the hallways of Abby's perfect family home that is covered wall-to-wall with slogans and sentiments about faith and family. I was also really drawn to the delicate score crafted by Finneas O'Connell that compliments the story so well.
Novak's comedic background is evident here, but he's not afraid to let darker themes and elements take over, especially as we build towards an unexpected final act.
Fans of typical Blumhouse productions may find this a little too measured and cerebral, but I found 'Vengeance' to be a tremendously solid first film.
A–
How to Watch
'Vengeance' is still playing in theaters across the country, but is now streaming on Peacock (in 4K HDR on select devices). It is also available to rent or own from all digital providers.
Looking for more to watch? Check out our September 2022 Streaming Preview!
About Author