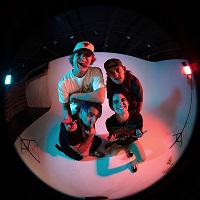 Anticipation is building for the release of the new album from 408. Filled with pop punk and alt-rock bangers, Out Of It can't get here soon enough. The newest single from the album is an uptempo energetic new song called "2016" and the album is due October 28th.
The new single features Titus on vocals. Coming off a string of successful singles, their most recent effort went viral. "Backfired" with Taylor Acorn has racked up hundreds of thousands of streams and connected with fans on Tik Tok.
What we like about 408 is that we can hear the pop-punk roots they're grounded in but other influences permeate through the music. If you listen closely, you can hear the hip hop, EDM, and electronica bleed through. The result is an up-and-coming band that is familiar yet fresh.
New Music From 408
408 teamed up with some scene heavyweights to record the new album. They worked with producer/engineer Andrew Wade and Andy Karpovck (A Day To Remember, Neck Deep) at The Audio Compound in Orlando.
Titus is a New Jersey-based artist and is well steeped in the music business. He has released three albums with his first band Zoo Troop Group. He's toured nationally on the Warped Tour and has a number of sold-out headline shows under his belt too. His presence with 408 on this new project is a great fit. Both are rising genre-bending artists headed in the right direction.
Check out details on their full US tour coming up with fall with Makeout here. They'll be hitting up cities like Los Angeles, Chicago, and Dallas on the Figure It Out Tour. For additional updates follow 408 on Tik Tok, Instagram, and Twitter.
Enjoying MendoWerks Magazine? Receive updates each week directly in your inbox. Sign up for the newsletter here.
About Author