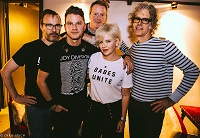 Alt-rock icons Letters To Cleo have announced a limited run of fall tour dates including a pair of homecoming shows in Boston, Massachusetts. The band was formed in 1990 by guitarist Greg McKenna and vocalist Kay Hanley. They went on to tour extensively and had a hit on their hands with "Here and Now" from their 1993 release Aurora Gory Alice.
While they disbanded in 2000, an unexpected appearance on the popular NBC show Parks and Rec in 2012 brought the spotlight back on the band. According to a Boston.com article, the character of Ben Wyatt (Adam Scott) wore a Letters To Cleo shirt on the show on multiple occasions. The band themselves would go on to appear on the show at the conclusion of season six.
Back In Nebraska EP
Just a few years later in 2016, Letters To Cleo released their first new material in 17 years. The Back in Nebraska EP was supported by several shows at the Paradise in Boston. The shows were so well received, they've now been performing these homecoming shows yearly and are now heading into year five.
Tickets go on sale Friday and you can visit the Letters To Cleo website for information. Follow along on Instagram and Twitter for additional updates. Here's some footage from their 2017 sold-out show at the Paradise Rock Club in Boston.
Letters To Cleo Tour Dates
11/4 – Soda Bar in San Diego, California
11/5 – The Roxy Theatre in West Hollywood, California
11/17 – Portland House of Music in Portland, Maine
11/18 & 11/19 – Paradise Rock Club in Boston Massachusetts
Enjoying MendoWerks Magazine? Receive updates each week directly in your inbox. Sign up for the newsletter here.
About Author