Going the DIY route, Jimmy Eat World has released an acoustic version of their latest song. The intimate version of "Something Loud" was recorded in their own Tempe, Arizona studio. And the accompanying music video was filmed as they recorded. In other words, what you see is what you get.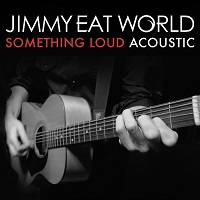 Frontman Jim Adkins along with long-time band members Tim Linton (guitar/backing vocals), Rick Burch (bass), and Zach Lind (drums) recorded the reworked version in a single day. The entire process to mix and master the song and edit the video was a very hands-on process with Adkins having this to say about the experience.
I recorded, mixed, filmed and edited the thing — took about a week all-in. A lot of it was hitting the spacebar to record, then running into the garage to play whatever was set up, while hitting record on my camera app on my phone to start the video recording."

Jim Adkins
When the band initially got together and decided to record a more mellow version of the song, it quickly expanded beyond a solo performance with just a guitar. Each member brought ideas to the table and the results are pretty fantastic. Highlights include the four-part harmonies and Adkins himself sharing drum duties with Lind.
Jimmy Eat World On Tour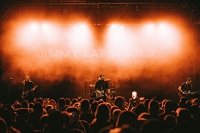 The band has been performing on The Something Loud Tour since early September. Adkins recently came down with an illness and was forced to postpone several shows. Those rescheduled dates have already been announced with more information here.
Jimmy Eat World has multiple performances scheduled for both weekends of the When We Were Young Festival in Las Vegas in late October. It was the excitement surrounding this festival that inspired Adkins to write "Something Loud" in the first place.
From there, they'll be heading to Australia with My Chemical Romance in March of 2023. It'll be the first time both bands have played down under together in more than 18 years. They last played with Green Day as opening acts in 2005.
For more information visit the Jimmy Eat World website or follow along on Instagram and/or Twitter.
Enjoying MendoWerks Magazine? Receive updates each week directly in your inbox. Sign up for the newsletter here.
About Author