English rockers You Me At Six have announced the release date of their highly anticipated new album. Truth Decay will be available on January 27th via Rise Records.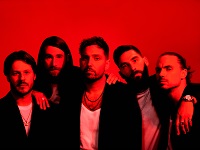 Recorded at Black Rock Studios on the island of Santorini, the band teamed with producer Dan Austin. He's worked with them on their previous albums VI and SUCKAPUNCH. Truth Decay is You Me At Six's eight studio album and you can expect them to embrace a retrospective vibe. They've been around since 2004 and are honoring the scene they helped build while helping to pave a way forward with the new material.
Vocalist Josh Franceschi had this to say about Truth Decay.
The album generally is the band doing all the things that we as a band think we're good at and just embellishing them and finessing those ideas and just trying to do retrospective, quintessential YMAS but in 2022 and give that a new lease of life. For us we saw people around us, our peers, and some new blood coming through that were doing emo rock music again and we thought 'well we know how to do that and we want the world to know how we do it.

-Josh Franceschi
You Me At Six just wrapped up a nationwide tour with ONE OK ROCK. To stay connected with the band visit their official website or follow along on Instagram and Twitter.
Tracklist: Truth Decay
Deep Cuts
Mixed Emotions (I Didn't Know How To Tell You What I Was Going Through)
God Bless The 90s Kids 
After Love In The After Hours
No Future? Yeah Right (ft. Rou Reynolds)
heartLESS
Who Needs Revenge When I've Got Ellen Rae
Breakdown
Traumatic Iconic
:mydopamine:
A Smile To Make You Weak(er) At The Knees
Ultaviolence
A Love Letter To Those Who Feel Lost (ft. Cody Frost)
Are you enjoying MendoWerks Magazine? Receive updates each week directly in your inbox. Sign up for the newsletter here.
About Author