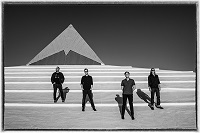 The Jimmy Eat World resurgence continues with a new song and unique music video release. Frontman Jim Adkins, himself, directed the footage used for "Place Your Debts".
The new release follows the successful DIY launch of "Something Loud" this past summer and the acoustic version of the song a few months later. This is the second music video in a row in that Adkins had a large role in video production. With the stripped-down version of "Something Loud" he spent about a week editing the finished product after recording the audio in a single day.
The music video for "Place Your Debt"s was a far more complicated project. The footage was shot while on tour throughout the U.S., U.K., and Europe this past summer. Each segment has a different background while Adkins is framed with the same composition in each one. The result is what he calls a "near-film look" which is quite visually stunning.
"Place Your Debts"
"Place Your Debts" was written in collaboration with Clarke Baechle of The Faint and Denver Dalley of Desaparecidos. Adkins had this to say about the meaning behind the song.
The 'debt' you rack up is the time you spend avoiding doing the work to know yourself,. You buy an ending every time you start something, and the cost is determined by how closely you pay attention to your personal condition.

-Jim Adkins
Jimmy Eat World seems content releasing single songs for now and doesn't have an album release on the horizon. They'll continue with several more headline dates and festival sets to wrap up a productive year. The band will be performing at all three When We Were Young shows before heading to Australia in March with My Chemical Romance.
For additional updates visit the website or follow along on Instagram or Twitter. Let us know your thoughts on the new material in the comments section below.
Jimmy Eat World Tour Dates
October 22 – Las Vegas, NV – When We Were Young++
October 23 – Las Vegas, NV – When We Were Young++
October 28 – Phoenix, AZ – Arizona Financial Theatre**
October 29 – Las Vegas, NV – When We Were Young++
December 3 – Fort Lauderdale, FL – Audacy Beach Festival++
December 7 – Washington, D.C. – DC101-derland++
December 8 – Philadelphia, PA – ALT 104.5 Friendsgiving++
** w/co-headline date with The Maine, Thursday, PVRIS, Sydney Sprague
++ Festival date
Are you enjoying MendoWerks Magazine? Receive updates each week directly in your inbox. Sign up for the newsletter here.
About Author