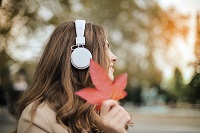 After a long hot summer, the seasons have begun to shift so we decided to take a look at nine song options you may want to consider adding to your playlist(s) this fall.
9. Broken Bells "October"
Broken Bells is a duo made up of producer Danger Mouse and James Mercer of The Shins. "October" appears on their debut album which was released in March of 2010. While not released as an official single, it's a great option for inclusion on any fall-themed playlist. Check out "The High Road" and "The Ghost Inside" from this album too.
8. Zac Brown Band "Colder Weather"
"Colder Weather" is the second single from Zac Brown Bands' 2010 album You Get What You Give. You may recognize the actor that appears in the music video. "Thor" aka Liam Hemsworth portrays the male lead while Tori McPetrie plays his girlfriend.
7. The Neighbourhood "Sweater Weather"
After a long hot summer, folks are ready for "Sweater Weather". The song was the lead single from The Neighbourhood's debut album I Love You released in 2013.
6. Iron & Wine "Autumn Town Leaves"
"Autumn Town Leaves" was released by Iron & Wine in August of 2018. The song appears on his Weed Garden EP and evokes a mellow fall vibe.
5. Wyclef Jean "Gone Till November"
"Gone Till November" appears on Wyclef Jean's debut solo album The Carnival. The track went top 10 in multiple countries. The New York Philharmonic Orchestra performed the orchestral arrangement.
4. Neil Young "Harvest Moon"
"Harvest Moon" is the title cut from Neil Young's 19th studio album, released in November of 1992. The mellow, heartfelt song is considered one of Young's best and is a perfect song for a quiet fall evening.
3. Earth, Wind & Fire "September"
The iconic "September" was released as a single in 1978 and it appears on The Best of Earth, Wind & Fire, Vol. 1. The song was added to the Library of Congress' National Recording Registry and was named by Rolling Stone as one of the 500 Greatest Songs of All Time.
2. Green Day "Wake Me Up When September Ends"
"Wake Me Up When September Ends" appears on the 2004 Green Day album American Idiot. The track was released as the fourth single from the album in the summer of 2005. According to an article in American Songwriter, Billie Joe Armstrong wrote the song in response to the passing of his father in September of 1982. Armstrong reportedly left the funeral and went home, locking himself in his room. When his mother returned and knocked on his door, he responded 'wake me up when September ends', coming up with the title on the spot.
1. Guns 'N Roses "November Rain"
"November Rain" appeared on Guns 'N Roses' third studio album Use Your Illusion I. The album was released in 1991 and the song was released as a single in 1992. The song was GNR's sixth and final top 10 hit on the Billboard chart.
Are you enjoying MendoWerks Magazine? Receive updates each week directly in your inbox. Sign up for the newsletter here.
About Author