Kevin Smith wraps up the raunchy 'Clerks' series by facing his mortality.
I was a freshman in college and working in a video store when the original 'Clerks' was released in 1994. To call me the target audience is an understatement. With a tagline that read "just because they serve you doesn't mean they like you" and its raw black-and-white aesthetic, it just worked on every level at that specific moment in my life.
2006's sequel found our slacker characters Randal (Jeff Anderson) and Dante (Brian O'Halloran) jumping from the Quick Stop convenience store into the fast-food world of Mooby's. While it didn't hit as sharply for me, it was undeniably funny, crass, and built upon the cult classic status of the first film to become an even bigger hit.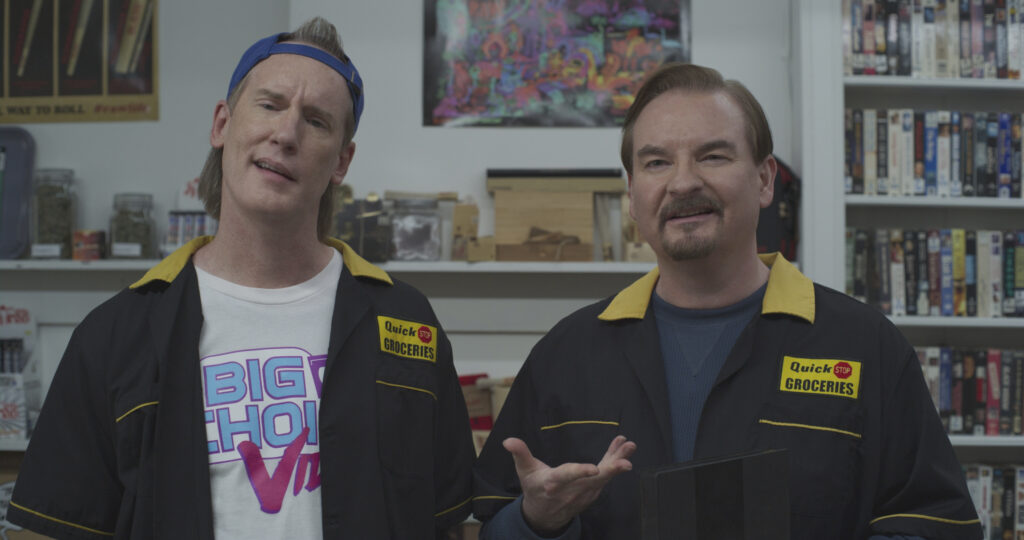 Kevin Smith's Heart Attack Inspired the Script
As much as I have enjoyed and rewatched the first two movies, the 'Jay and Silent Bob Reboot' from 2019 was truly exhausting and painfully unfunny. I ejected the disc before it even got to the thirty minute mark. Upon news that a proper third 'Clerks' film was on the way, I was incredibly skeptical. Was there anything left for these characters to say?
The "widowmaker" that Smith suffered in early 2018 that, by all accounts, should have killed him is really at the heart (so to speak) of 'Clerks III.' After Randal barely survives a heart attack while working at the Quick Stop, it inspires him to follow his dream of making a movie.
We get a moviemaking experience that echoes Kevin Smith's own debut film and allows him to pay tribute to the characters and the acting ensemble that has stuck with him for decades.
Despite her death in the second installment, Rosario Dawson returns as Dante's wife Becky in surprisingly poignant dream sequences. A slew of amusing cameos occurs during Randal's casting process as well where some of the more famous members of the View Askewniverse resurface briefly.
The Verdict
Kevin Smith's latest retains the wildly offensive humor he's known for but infuses it with an emotional core. The balance of comedy and drama is uneven, but he mostly manages to pull it off. I don't see this winning over a wave of new fans, but it does superserve the hardcore base that has stayed intensely loyal. If these characters mean something to you, you'll find a lot to love. If not, nothing here is likely to do the trick.
B-
How to Watch
'Clerks III' opens in theaters nationwide September 13. Kevin Smith is also taking the movie on a roadshow tour with personal appearances and screenings that are scheduled through November 14.
About Author