Nashville-based trio The Foxies have released an infectious new pop punk single called "I Don't Wanna Want It". The catchy, uptempo track will be featured on their new album Who Are You Now, Who Were You Then? that's due September 23rd.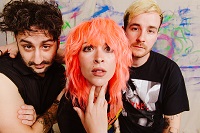 The Foxies are Julia Bullock, Jake Ohlbaum, and Rob Bodley. They've released a steady stream of EPs in recent years and have built up a dedicated fanbase. With the release of their debut full-length album, they teamed with a revolving lineup of collaborators in Los Angeles and Nashville. They'd often lay down tracks in their home studios first before bringing it all together.
Ohlbaum came up with the melody for "I Don't Wanna Want It" during a drive to a studio session. The release comes on the heels of the previously released "Overrated", "Headsweat", and "If Life Were A Movie". When asked for more insight into their latest effort, the band had this to say.
This feels cheesy, but we're always looking for something that we probably don't need.  It's a dark place when that thing that's bad for you is the person you love.  I don't think anyone has a full proof system for making it out of that place, but it can consume you for days at a time, if not months or years.  I don't know why this song came out so upbeat and driving for a lyric that's such a bummer, but I'm glad it did.  I think for Julia and me, writing this song was cathartic because we both were dealing with people we cared for deeply, but maybe didn't show it back to us.  It felt easier, and way more worth it to head bang and scream a little bit rather than actually calling up that toxic person and screaming at them.

The Foxies
The Foxies On Tour + Album Release Show
The Foxies are set to embark on a European tour in support of the iconic Billy Idol this fall. Set to kick off Friday, September 23rd in Germany they'll open for Idol through October 11th.
From there they'll have a few weeks off before hosting an album release show in their Hometown of Nashville, Tennessee. Tickets are available now for their October 28th date at Exit In. It might be time to start planning your costume because not only will they be celebrating the release of the album, but Halloween too.
For more information visit The Foxies website or follow along on Instagram and Twitter.
Tracklist: Who Are You Now, Who Were You Then?
Overrated
Headsweat
I Don't Wanna Want It
Hey Dude
Good Try
Small Apartment
If Life Were A Movie
Blush Boy
Y2k
Crushed Velvet
Then I'll Go (Good Not Golden)
Are you enjoying MendoWerks Magazine? Receive updates each week directly in your inbox. Sign up for the newsletter here.
About Author