Newly Available on VOD this November
*PVOD titles are fresh from theatrical release and generally rent or sell digitally for $19.99 (or higher). All dates subject to change.
Fingernails – Greek filmmaker Christos Nikou makes his English-language feature debut with this sci-fi take on modern dating. Jessie Buckley and Riz Ahmed work at a "love institute" where couples undergo mysteriously rigorous testing to determine if they're right for each other. Also starring Luke Wilson and Jeremy Allen White from 'The Bear.' (available now)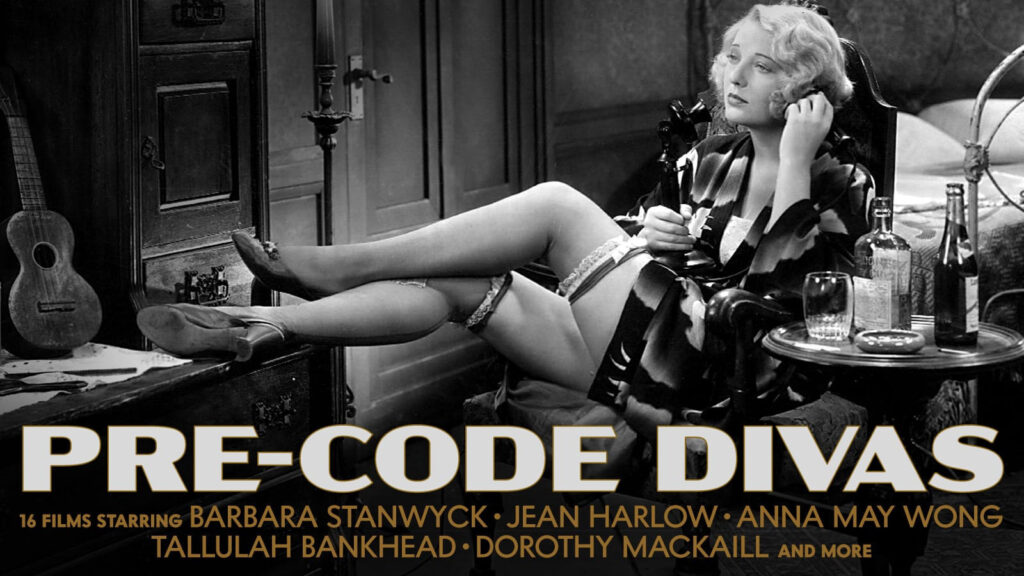 Pre-Code Divas – Before the Hays Code introduced censorship to Hollywood, these leading ladies pushed the limits of the silver screen. The series includes 16 films like 'Baby Face,' 'Three on a Match,' and 'She Done Him Wrong.' (available now)
November Noir – Celebrate Noirvember with 20 of the all-time greats like 'Laura,' 'Detour,' 'Nightmare Alley,' and 'The House on Telegraph Hill.' (available now)
Lynch/Oz – Director Alexandre O. Philippe examines the connection between the career of maverick filmmaker David Lynch as it intersects with 'The Wizard of Oz' in this clever documentary. (available now)
Dashing Through The Snow – From the director of 'Barbershop,' Ludacris and Lil Rel Howery star in this family comedy about a social worker who takes his daughter on the job on Christmas Eve where they meet am unusual man named Nick. (November 17)
The Naughty Nine – A fifth grader without any presents on Christmas morning realizes he landed on Santa's naughty list. (November 23)
Quiz Lady – Awkwafina stars as Anne, a woman obsessed with game shows who teams up with her sister Jenny (Sandra Oh) after their mother gets bogged down with gambling debts. (available now)
Faraway Downs – In 2008, Baz Luhrmann's film 'Australia' bombed at the box office. 15 years later, he has gone back and expanded the Nicole Kidman and Hugh Jackman drama utilizing over two million feet of film that was originally shot on the project. The 165-minute film has been re-edited into a "six-chapter reimagining" that contains a completely different ending than the film once did. (November 26)
Master Gardener – Joel Edgerton and Sigourney Weaver star in the latest film from Paul Schrader about a horticulturalist who is having an affair with a wealthy client and hiding a major secret. (November 23, rescheduled from October 26)
Hulu is also adding a bevy of holiday favorites starting on November 23 including 'Elf,' 'National Lampoon's Christmas Vacation,' and 'The Polar Express.'
Nyad – Annette Bening is getting a lot of Oscar buzz for her portrayal as legendary swimmer and sports jourmalist Diana Nyad. Also starring Jodie Foster and Rhys Ifans. (available now)
The Killer – In his first film since 'Mank,' David Fincher adapts a French comic book series about an unnamed assassin (Michael Fassbender). (November 10)
Rustin – Colman Domingo stars as Bayard Rustin in this historical drama about the openly gay civil rights leader who was an advisor to Martin Luther King Jr. (November 17)
Good Burger 2 – Kenan and Kel return 26 years after the events of the iconic first film. (November 22)
The Lesson – Richard E. Grant, Julie Delpy, and Daryl McCormack star in this British thriller that was originally titled 'The Tutor.' It marks the feature film debut from U.K. television director Alice Troughton. (November 27)
Earth Mama – This indie drama from A24 and first-time director Savanah Leaf chronicles a single Black mother in the Bay Area. (November 28)
Please Don't Destroy: The Treasure of Foggy Mountain – Straight from 'Saturday Night Live', the comic trio known for their outrageous digital shorts has made their first feature film. They are joined on their journey by Bowen Yang ('SNL'), Meg Stalter ('Hacks'), Nichole Sakura ('Superstore'), and Cedric Yarbrough ('RENO 911!') (November 17)
Genie – Richard Curtis ('Love Actually') wrote the screenplay for this holiday comedy starring Melissa McCarthy. She plays a genie trapped for over 2,000 years who resurfaces in the lives of a couple on the rocks right before Christmas.(November 22)
BTS: Yet to Come – Prime Video signed a deal to exclusively deliver this concert film to 240 countries and territories worldwide. It captures the seven-member band when they performed at the Asiad Main Stadium in Busan, South Korea, in October 2022. (November 9)
A Good Person – Zach Braff wrote and directed this drama starring Florence Pugh as a young woman whose life changes in an instant when she kills two people in a car accident. Also starring Morgan Freeman, Molly Shannon, and singer/songwriter Cary Brothers. (November 28)
Can't get enough of our November streaming suggestions? Check out last month's recommendations here!
About Author