The act of DJing is nothing short of an art form. Being able to create a cohesive collage (of sorts) out of other artists' tunes is not an easy feat. Sure, anyone can build a decent playlist, but it takes a special sort of talent to mix the music together–to create an experience, one that's both engaging and organic all the way through.

If you need proof of this fact, please turn your attention to Cybrfly, a SoCal-based DJ and music producer hailing from the wave scene, and her latest cinematic mix, 'The Monarch: Vol 3."
Over the years, Cybrfly has curated a couple series of mixes for fans to enjoy. Through these mixes, Cybrfly shows off her great ear for music–and her skill at weaving sounds together into electronic journeys unlike any other.
If you were lucky enough to catch Cybrfly's set at Tears in the Club IV over the summer, then you know exactly what we mean. If not, then boy, do we got good news for you: you can experience the artistic world of Cybrfly by simply logging onto her SoundCloud and taking your pick between her many mixes–be it her newest upload, which just came out in time for Halloween, or another one of her fantastic curations.
Want to know what to expect before you listen? You're in the right place! Read on for some words from the artist herself about each of these mix series.
Meet Cybrfly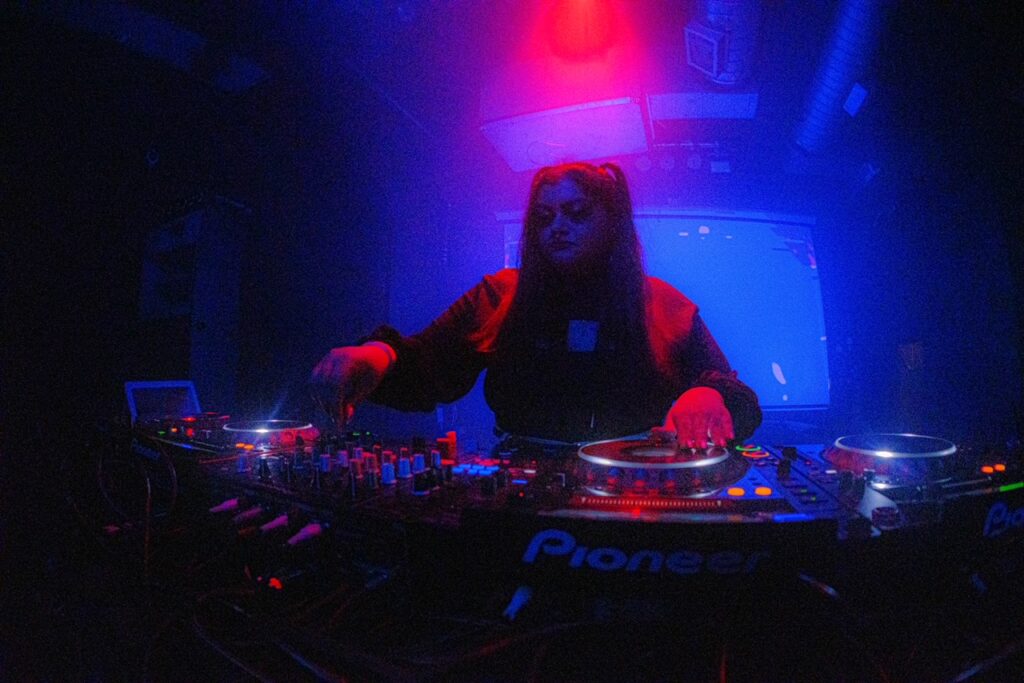 "SoCal based Cybrfly started her musical journey in San Francisco in 2019 after discovering her passion for dark, haunting beats and sounds. Her blend of wave, deep dubstep and hybrid trap conveys magical stories interleaved through space, time, and emotion.
Having supported legends such as Flosstradamus, Heimanu, and Barnacle Boi, she continues to showcase her unique style in her original productions as well as in her various mix series and live performances. As a dedicated member of the LA underground wave community, she is very excited to see this genre blow up globally!" (bio as provided by artist)
---
About Cybrfly's mixes…
We briefly connected with Cybrfly and asked her for a little bit of background info on her mix series.
Here's what we learned…
"I do three different mix series every year. I started out as a DJ years ago, and so I like to give myself a few deadlines to make sure I'm still keeping up with my DJ roots, despite all the production I'm working on."
Those three series include two astrology-inspired mixes, 'Aries Season' and 'Retrograde'–and, of course, 'The Monarch.'
Cybrfly goes on to explain the ideas behind each:
'Aries Season'
"My 'Aries' mixes are my true style–usually close to what I play live. Pretty solid blend of wave, hardwave, hybrid trap, some deep dub as well, but usually a little heavier stuff. I drop that one on my birthday every year!"
'Retrograde'
"And then my retrograde mixes are same genres, but generally a little more laid back and vibey… but still pretty similar, since wave music is always vibey to me. [laughs] That one I usually don't have a strict deadline on, just kinda go off my inspiration and energy level during whatever retrograde period makes sense to me."
'The Monarch'
"My Monarch series is my Halloween spin-off, if you will. [laughs] I had debated doing a whole side project/alias before I dropped vol 1, but I wanted it to still fall under my brand because I think there are elements that could still tie into my Cybrfly project… so I basically created it as a sub persona. That one is primarily synthwave, midtempo, cyberpunk, with some slow trance-like inspo. Makes me feel like 80's Halloween serial killer vibes mixed with futuristic cyberpunk 2077 vibes put together."
"I've never played Monarch live before, but I'm waiting for the perfect opportunity to, because I think it's a lot of fun, and I want to be strategic. But when I do play it live, I'd probably have the poster say "Cybrfly presents: The Monarch" as the artist name, rather than just 'The Monarch'.
---
Regardless of if a future show is Cybrfly or 'Cybrfly presents: The Monarch', we're definitely waiting (not-so) patiently for the next opportunity to see this artist live.
If these mixes are a taste of what to expect? Then that show is definitely at the top of our most-wanted list.
Keep up with Cybrfly:
SoundCloud | Twitter | Instagram
Are you enjoying MendoWerks Magazine? Receive updates each week directly in your inbox. Sign up for the newsletter here.
Find more wave music here.
About Author