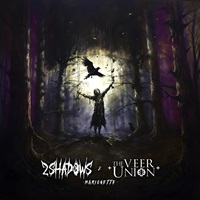 Rising metal outfit, 2 Shadows, has joined forces with The Veer Union for their latest single, "Marionette." The track is a haunting, melodic, and heavy composition that showcases relentless guitars and a propulsive drum line. Lyrically, "Marionette" serves as a powerful statement against conformity and the influence of others in shaping one's life.
Glen Bridden of 2 Shadows describes the song as a call to break free from the puppetry of societal expectations. Urging individuals to stand up for their true selves without compromising their integrity.
Collaboration
Crispin Earl of The Veer Union produced and co-wrote the song. He expressed excitement about their collaboration with 2 Shadows, believing that "Marionette" has the potential to propel the band to new heights in the music scene.
The accompanying music video visually captures the song's themes of suspension and external influences steering our world. The video resonates with the track's darkness and energy and was shot in Vancouver.
2 Shadows, currently on their "The Cold Inside Tour," is set to release more music in 2024 and continue touring throughout the year. The tour has taken them across North America, with upcoming dates in various cities, showcasing their dedication to their craft and live performances.
Getting To Know The Bands
2 Shadows, formed in 2015 and draws inspiration from iconic bands like Slipknot and Rammstein. The incorporate elements of contemporary acts such as Motionless In White, Asking Alexandria, and Avenged Sevenfold. Their recent viral success on social media platforms, particularly TikTok, has garnered them a substantial following and over 100 million content views across their networks.
About The Veer Union: The Veer Union, established in 2004, boasts a remarkable track record, including a #1 hit on satellite radio to go along with 12 Top 40 singles on the Billboard Rock Radio charts. Their extensive streaming and YouTube views showcase their enduring presence in the music industry.
Connect with 2 Shadows: Website | Instagram | Facebook | Twitter
Connect with The Veer Union: Website | Instagram | Facebook | Twitter
Are you enjoying MendoWerks Magazine? Receive updates each week directly in your inbox. Sign up for the newsletter here.
About Author