Orlando-based hard rock outfit Kings County has released their latest high-octane single and this one is a cover you may recognize. The band has re-imagined the classic Nine Inch Nails track "Wish". This reimagining of a classic track showcases the band's commitment to pushing boundaries both musically and visually. The accompanying video was shot in the historic West Virginia Penitentiary, adding a chilling layer to their interpretation.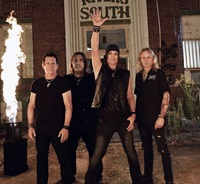 Kings County is comprised of Rob Dexter (Vocals, Bass), Steve Bell (Guitars, Vocals), Joe Lopez (Drums), and Bill Kania (Guitars, Vocals). Kings County's frontman, Rob Dexter, expressed his deep admiration for Nine Inch Nails, particularly Trent Reznor's ability to carve his unique path within the industrial rock scene. Dexter's fascination with "Wish" led to the desire to recreate and revamp the song.
Paying Tribute To NIN
In their rendition of "Wish," Kings County sought to infuse it with more power and intensity. Real drums replaced the original drum machine, and the guitars were made heavier and thicker by layering multiple guitar tracks. Producer Chuck Alkazian masterfully recreated the iconic Nine Inch Nails keyboard sound. while Dexter contributed his own Trent Reznor-style screams, adding explosive energy to the track.
The decision to film the "Wish" music video at the West Virginia Penitentiary was a unique choice, resulting in a one-of-a-kind experience. The location's eerie atmosphere and dark history brought an unprecedented level of intensity to the project.
During filming, the band encountered inexplicable phenomena, including sounds of footsteps, disembodied voices, screams, and laughter. Even the equipment itself seemed to be affected, with a camera lens cracking mysteriously. And it turned out some of the filmed scenes became corrupt and irretrievable.
Taking It To The Next Level
With their cover of "Wish," Kings County successfully takes the track to new sonic heights. They've modernized while preserving the original recording's integrity and arrangement. The accompanying video adds a horror movie element to the hard rock aesthetic, making it a truly captivating visual experience.
This ambitious project was produced by the renowned Chuck Alkazian. His credits include artists like Pop Evil, Soundgarden, and Tantric, and recorded at Pearl Sound Studios in Canton, MI. Kings County's cover of "Wish" is poised to offer fans an exhilarating new take on a classic Nine Inch Nails hit.
Connect with Kings County:
Website | Facebook | Instagram | Twitter
Are you enjoying MendoWerks Magazine? Receive updates each week directly in your inbox. Sign up for the newsletter here.
About Author