Welcome to Wave Nation: Amsterdam, the 2nd annual wave music event presented during ADE–this year, featuring artists like Skeler, REMNANT.exe, and more. Read on to find all the need-to-know details about the show, and why this one's particularly special to us here at MendoWerks.
If you are planning on heading to the Amsterdam Dance Event in 2023, trust us when we say that this is the show to add to your schedule if you want to understand what's hot in underground electronic music right now.
Buyer beware– the first two ticket tiers are already sold out!
Wave Nation: ADE lineup, featuring Skeler, REMNANT.exe, and…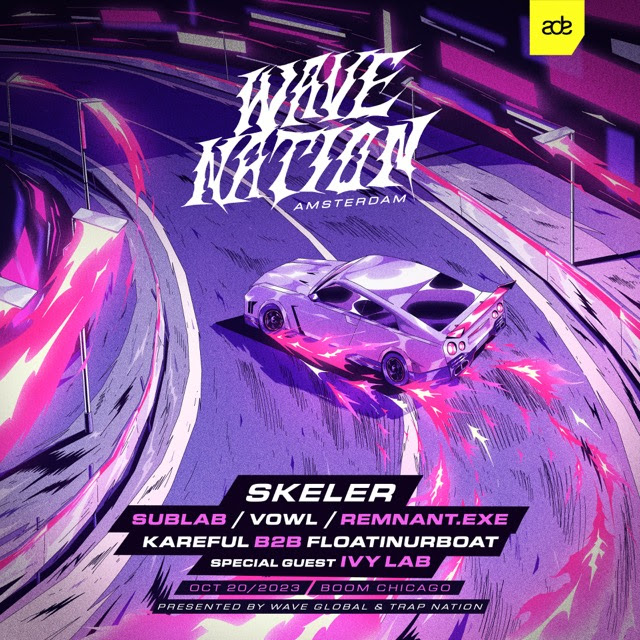 Welcome to Wave Nation: Amsterdam, the 2nd annual wave music event presented during ADE by some familiar faces.
This year, the wave scene is hosted by Wave Global & Trap Nation at Boom Chicago on Friday, October 20, 2023.
The line-up consists of Skeler, Sublab, vowl., REMNANT.exe, Kareful b2b FLOATINURBOAT, and a special guest: Ivy Lab.
Much like last year's wave night, this event is certain to sell out– so get your tickets here.
---
I know wave music is emotional by nature, but I'm actually feeling big things here, you guys!
One of the artists that I've loved since the start of my wave music journey is REMNANT.exe. The very thing that got me hooked on the genre was the vibe.digital release day stream celebrating his Psychokinesis EP back in 2021. To this day, that podcast episode is something I turn to quite frequently–whenever I need to really think on something, or have four hours I need to fill.
Having had the pleasure of attending not one, but two, shows with REMNANT.exe on the lineup last year–as well as attending the inaugural wave events at ADE 2022…
I can safely say that seeing REMNANT.exe's name on a flyer for one of the biggest dance music events on the planet is simply… the best thing ever.
Some things can be put that simply.
It was an impeccable decision to bring REMNANT.exe out to ADE to represent the wave scene.
While his production style is entirely unique to him, this artist a great example of where larger-than-life cinematics, cheeky video game influences, and huge emotional pay-offs meet in order to create wave music. His music is demonstrative of just how boundless the genre is.
REMNANT.exe is also a natural DJ. During his shows, at times, he can be seen hunched over the decks like a mad scientist, ready to add in just a touch of 2006 Cascada, if that's what will best serve his crowd, that is. It's amazing.
In other words, ADE is in very good hands this year.
If you head to this Boom Chicago function, you are in for a very good time.
We actually got the chance to ask REMNANT.exe how he feels about the Wave Nation lineup inclusion, too—
This is what he had to say:
"[I'm] really excited to be on the Wave Nation lineup for ADE this year. After seeing how well everything went at the last one, it was a pretty big goal of mine to make the showcase this year and I'm really happy everything worked out to get my name on the bill.

As always, I'm really stoked to hang out with everyone at this one, and I'm also very curious to see how wave shows differ in terms of audience and sound in Europe vs. what I'm used to here in America.

Overall I think it's going to be a total blast!"

– REMNANT.exe
---
Wave music at ADE is an experience like no other.
Still undecided? It's hard to capture all of the magic on video, but check out the recap from last year's sold out event to get an idea of the vibe:
---
Are you enjoying MendoWerks Magazine? Receive updates each week directly in your inbox. Sign up for the newsletter here.
Find more wave music here.
About Author