Brace yourselves for a sonic journey as Atreyu unleashes The Moment You Find Your Flame EP courtesy of Spinefarm. Front and center in this release is the visually captivating video for "Immortal." The band dishes out a profound lesson on harnessing the power of negativity to fuel one's drive.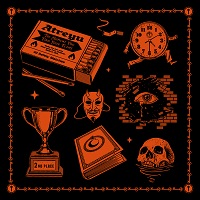 It's a message that resonates deep, drawn from the band's own brush with fame's trials and tribulations. As Brandon Saller, the charismatic frontman, puts it: "We've never had things easy. But the only thing that matters is doing what we love for the people that love us."
Atreyu In The Studio
Atreyu worked with their longtime collaborator John Feldmann on The Moment You Find Your Flame. The EP delves into the struggle of self-discovery, embracing self-worth, and facing the shadows of self-doubt. This 4-track collection pulls back the curtain on internal battles, revealing insecurities and touching on the raw human experience we all share. The band's introspection becomes offers up catharsis and comfort through their music.
If you've been following Atreyu's narrative, you'll know this EP is an integral piece of the puzzle. Their upcoming album, The Beautiful Dark of Life, is slated for later this year. This EP, alongside its predecessor The Hope of a Spark, stitches together the final chapter of their profound Seasons of Life storyline within the album.
Tracklist: The Moment You Find Your Flame
Good Enough
Immortal
Gone
I Don't Wanna Die
Bassist and vocalist Porter McKnight nails it when he describes The Moment You Find Your Flame as that path to recovery, where the glimmer of hope begins to illuminate the way. Yet, the flame needs nurturing. It's a journey we all can relate to, reflected in every track.
Atreyu On The Road
For those keeping track of live dates, Atreyu is set to co-headline the "We Want Your Misery Tour" alongside Memphis May Fire, kicking things off on August 27 in Ventura. The journey doesn't stop there, as they link up with Godsmack on select dates, followed by a Canadian run with Iron Maiden.
Now, if you're wondering about their live presence, fear not – Atreyu's electrifying performances are nothing short of legendary. With a 20-year journey and eight critically acclaimed albums under their belt, they're here to shape the rock and metal scene, just as they've always done.
From their roots in Huntington Beach to their evolution into a genre-blurring force, Atreyu remains a potent musical force to be reckoned with. Don't miss your chance to catch them live and experience the magic firsthand.
Connect with Atreyu:
Website | Facebook | Instagram | Twitter
Are you enjoying MendoWerks Magazine? Receive updates each week directly in your inbox. Sign up for the newsletter here.
About Author