While promoting her debut film 'Shiva Baby,' director Emma Seligman talked about how her next movie would be a "campy queer high school comedy in the vein of 'Wet American Summer but more for a Gen-Z queer audience."
She has delivered with a wildly outrageous film called 'Bottoms.'
PJ (Rachel Sennott) and Josie (Ayo Edebari) are hopelessly disliked at their high school. It's not because they are openly gay, but actually because they're "ugly and untalented." The two are desperate to lose their virginity before going off to college, but can't get any girls to look their way.
That all changes once they form a "fight club" to attract the attention of some popular cheerleaders in their senior class. The unorthodox extracurricular activity brings the girls to them, but can they close the deal?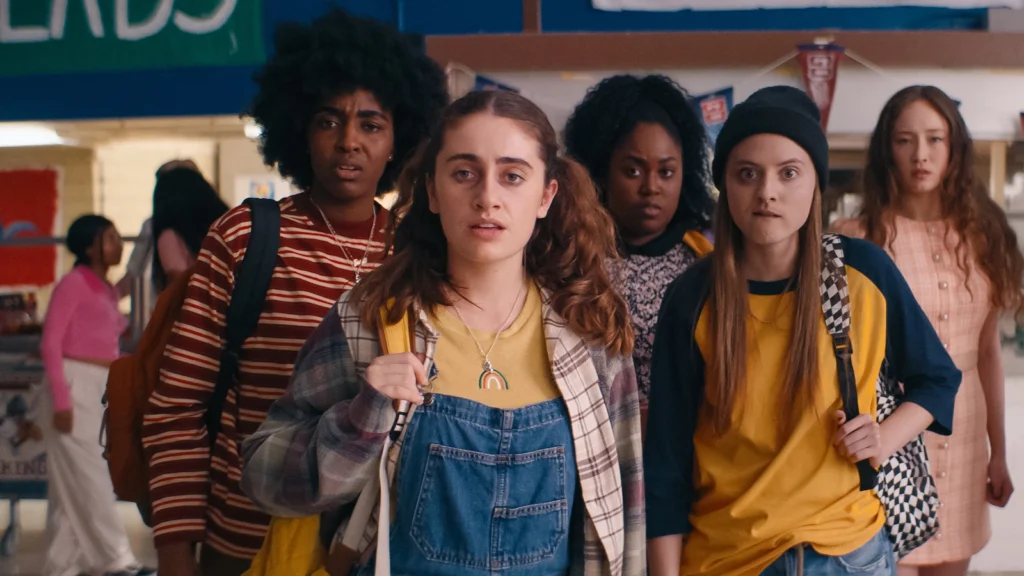 The Verdict
It's worth noting that there is almost nothing in 'Bottoms' that is grounded in reality. 'Wet Hot American Summer' is a good comparison in terms of the absurdist humor, as is 'Heathers.'
Seligman and Sennott have packed the script with outrageous moments that may go too far for some. There were at least three people who left the advance screening I attended before it was halfway over. If you aren't on its extremely satirical wavelength, it might be a tough watch.
The entire cast is fantastic, but Sennott and Edebiri do the heaviest lifting in terms of the comedy. In supporting roles, Havana Rose Liu and Kaia Gerber (the spitting image of her mother, Cindy Crawford) are young actors to watch. Nicholas Galitzine also does a complete 180 from his recent role in 'Red, White & Royal Blue' as a himbo football player.
The over-the-top nature of the story and some genuinely shocking violent moments will make it or break it for viewers. Personally, I was so happy to have such an unabashedly queer storyline wherein their sexuality was never part of the joke.
'Bottoms' lands as a perfect end of summer movie. It may not truly land with mainstream audiences, but it feels like an instant comedy classic.
To add to the cool factor, the film has a fun, freewheeling score by Leo Birenberg and Charli XCX.
Grade: A-
How to Watch 'Bottoms'
'Bottoms' opens in ten theaters this weekend before expanding across the country over Labor Day weekend. As an Orion/MGM release, its eventual streaming release will occur through Amazon Prime Video.
Looking for more viewing recommendations? Check out our August 2023 streaming preview!
About Author