Grammy-nominated artists Madi Das and Dave Stringer have unveiled their eagerly awaited new album. Mantra Americana II is a step forward for the duo. Their unique style can be described as a fusion of Sanskrit with Soul and Country & Eastern. They've captured the terms "Roots & Ragas" or "Nashville meets Namasté." to describe the captivating blend of influences.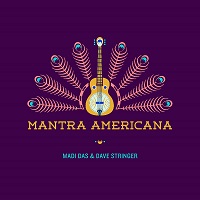 Celebrated guest musicians Greg Leisz, Dean Parks, and Mitchel Foreman all appear on the album. With instruments ranging from dobro and mandolin to pedal steel, accordion, piano, and Hammond organ, expect a unique fusion of sounds. The lead vocals offer a unique twist, drawing inspiration from Johnny Cash while backing harmonies evoke a Laurel Canyon sound reminiscent of the '70s.
Mantra Americana II effortlessly balances tradition and innovation. Borrowed motifs blend with original compositions. The result is a musical creation that feels both familiar and exotic. Sung in languages such as Sanskrit, Bengali, and Hindi, the mantras embedded in the songs have the potential to resonate even with listeners unfamiliar with the languages.
Getting To Know Madi Das & Dave Stringer
The musicians behind Mantra Americana II, Madi Das, and Dave Stringer, previously collaborated on the charitable album Bhakti Without Borders in 2015. Their recent album Mantra Americana earned both artists Grammy nominations in the Best New Age, Ambient, or Chant Album category. They came together post-pandemic to record this sequel, aiming to progress the genre and make chant music accessible to a wider audience.
The album is positioned within the evolving landscape of contemporary spiritual life, embracing the shift away from established faith and belief systems towards practices exploring the nuances of human experience. For the artists, music and yoga serve as conduits for exploring themes of love and consciousness.
On The Road
Dave Stringer, known for his extensive experience in Kirtan as a performer and producer, will be touring the US and Australia in support of Mantra Americana II. At its core, Kirtan's call-and-response pattern aligns with the essence of Bluegrass, Gospel, and Jazz.
Mantra Americana II not only embodies a fusion of cultures and devotional creativity but also mirrors the evolution of Kirtan itself. This art form, constantly reimagining and renewing itself, readily incorporates influences from Western classical, jazz, and popular music, breaking the mold of a static tradition.
"Mantra Americana II" encompasses a collection of songs, each with its own narrative, and the album has the potential to bridge cultures, musical genres, and artistic expressions, and embodies a shared yearning for transcendence and unity.
Connect with Madi Das and Dave Stringer at their official website.
Are you enjoying MendoWerks Magazine? Receive updates each week directly in your inbox. Sign up for the newsletter here.
About Author