UK-based singer-songwriter AlienBlaze is back with a catchy new genre-defiant song, "Enemies With Benefits," out now via Sumerian Records. This release marks the artist's third with the label since her 2022 signing. It follows her inaugural single, "Not Yours Never Was," and her recent collaboration with OmenXIII, "Lovesick".
Produced by The Nocturns, and loosely inspired by Elton John's "Goodbye Yellow Brick Road," AlienBlaze denotes this song as one of her favorite releases to date.
We definitely can see why. Make sure to take a few minutes and check this one out.
Watch the music video for "Enemies With Benefits" by AlienBlaze on YouTube
With lyrics like "I want to stamp all over your ego with my platform heel…" and "I'll break a champagne glass over your head…", AlienBlaze takes her usual penchant for melodrama and takes it to a whole new level. Through these images, this song demonstrates a sense of societal fascination with wild celebrity lifestyles. After all, there's this widespread lust for social media fame–at any cost–via influencer culture and the Tiktokification of real life, as well as a trend of slice-of-life melodramas taking over streaming services: The Idol, Euphoria, Dynasty, Gossip Girl, etc.
It seems that these influences are everywhere these days.
In other words, this song is like taking your favorite primetime soaps and combining it with the best (worst?) of HBO– and distilling all of that drama into three minutes of electrified pop-rock.
It's honestly a pretty great time.
Speaking on this new song, AlienBlaze shares, "This is one of my favourite songs I've written, so I hope my audience will love the new record as much as I do. I guess I'm in my 'villain era' now with this song. I drew a lot of inspiration from watching the fluctuation of relationships in 'Gossip Girl', and so to a degree this song is an empowered breakup record, whether that be in a friendship or a relationship or whatever."
---
Meet AlienBlaze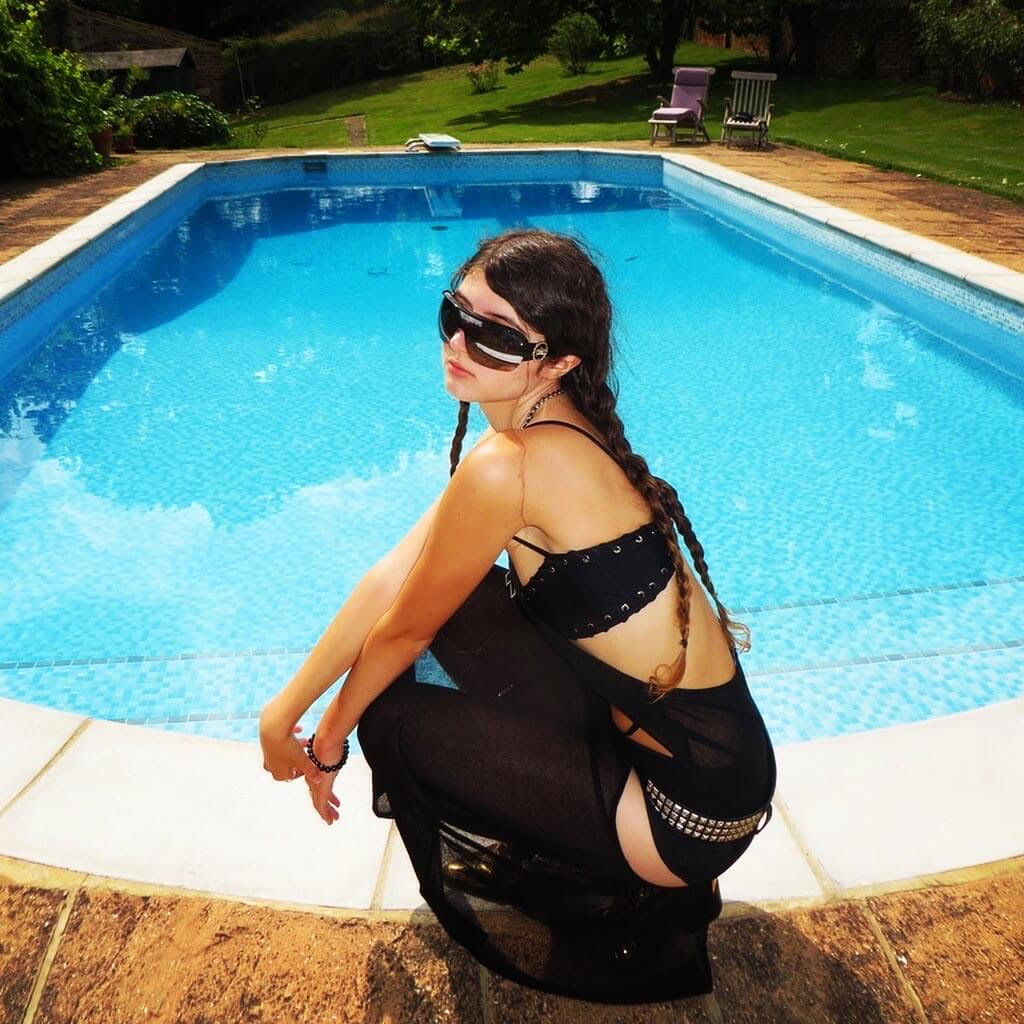 "AlienBlaze is a 20 year old mad as hell singer/songwriter and lead guitarist crafting genre-fluid anthems resulting in a fascinating hybrid of everything from dark alternative pop, grunge and emo, to rock and electronic elements. Her dominating presence emits an angsty appeal, encouraging a sense of self-empowerment to her young audience.
In her school years, AlienBlaze spent most of her time at home through sickness, so [she] spent hours and hours learning the electric guitar on her mum's old guitar, wanting to play like her guitar inspirations Jerry Cantrell of Alice In Chains and Slash. Blaze's sense of alienation from her peers is what inspired her to add the 'alien' part to her name as an artist. Covering topics such as the everyday experiences of a young adult, to more poetic themes including pathetic fallacy and imagery from nature, AlienBlaze delivers her message in a way that allows listeners from all walks of life to interpret it.
Since only uploading her first song to Spotify in 2019, she has received attention from numerous editorial playlists. She has also had praise from the likes of Oli Sykes (Bring Me The Horizon), Rou Reynolds (Enter Shikari), Grimes and Ellie Roswell (Wolf Alice), [and more]."
– artist's biography.
---
Expand your horizons
While "Enemies With Benefits" may not be the heaviest song out there, as is what folks have come to expect from Sumerian Records, that shouldn't deter listeners from giving AlienBlaze a real chance. She is a talented musician who puts a lot of emotion–and soul–into her work.
As a result, her catalog is full of great tunes–poppy and heavy alike.
Embrace your own "villain era", and have a look.
If you're among the bitter trolls that need convincing that AlienBlaze is the real deal… You might want to check out her 2019 release, "Hate Me." That one might be aggressive enough for you.
If not, you can always–y'know–silently move on? Sort Sumerian Records' YouTube videos by earliest release date and go from there? Enjoy your classics?
The rest of us will sit back and enjoy the evolution of their roster… with AlienBlaze leading the way.
We love seeing the girls win–
You can stay mad about it.
---
Connect with AlienBlaze:
Instagram | Twitter | Facebook | TikTok
---
Are you enjoying MendoWerks Magazine? Receive updates each week directly in your inbox. Sign up for the newsletter here.
About Author