With 'Infinity Pool,' Brandon Cronenberg proves that the apple doesn't fall far from the tree. And that tree is probably covered in blood.
Yes, Brandon's dad is the one and only David Cronenberg and he's made some great films over the course of his career. For my money, 'Infinity Pool' is far more interesting than his dad's most recent effort.
Of course, it helps to have two of the sexiest people on the planet along for the ride – Alexander Skarsgard and Mia Goth.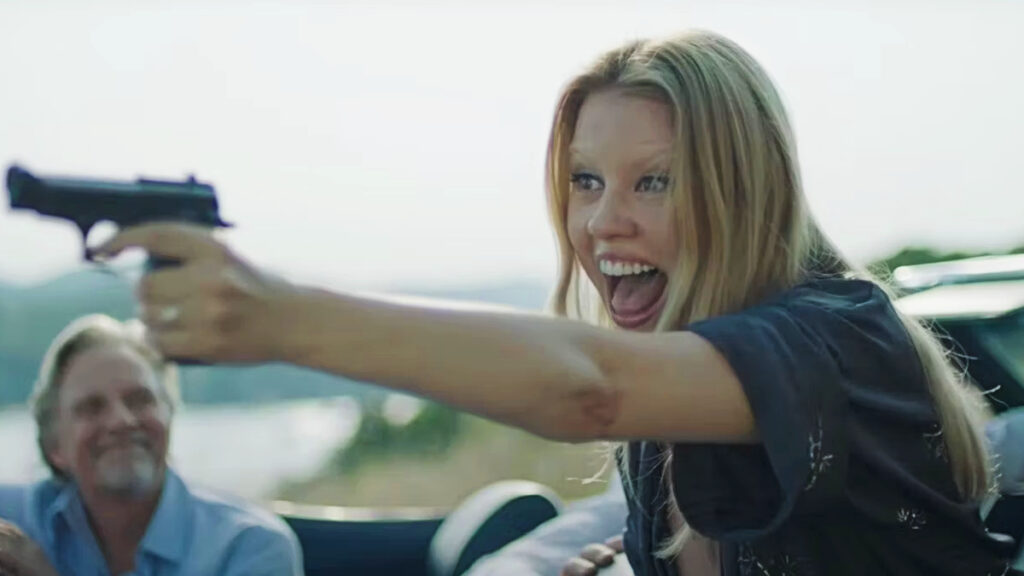 Skarsgard plays James Foster, an author with one middling novel under his belt who just can't seem to write a follow-up. To kickstart his brain, he follows his wife Em (Cleopatra Coleman) on a trip to a luxury resort in Li Tolqa (a location made up for the purposes of the film). Maybe a holiday in the sun will cure what ails him?
Before you see a frame of film, you likely know things go terribly wrong on this vacation. A drunken accident leads to everything coming undone for James. The trip that once seemed like a perfect getaway becomes a total nightmare.
The Verdict
You see, James and Em meet up with Gabi (Mia Goth) and her partner, Alban (Jalil Lespert) pretty early on in the journey. Gabi outs herself as a big fan of James' book, which catches him off guard because it was not a big seller. This new couple gets them to travel outside of the safety of the resort (something expressly forbidden by local authorities) and then, well, all hell breaks loose.
Mia Goth, who wowed horror audiences last year with 'X' and 'Pearl', gives a blistering performance and chews up the scenery in every possible shot.
To reveal the twists and turns of the story would give away too much of its power, but suffice it to say, shit gets weird. And despite the fact that audiences at Sundance were treated to an uncut version of the movie that earned an NC-17 from the MPAA, NEON did give in and sanitize the movie for wide release.
That means the much-talked-about close-up of an ejaculating penis is missing in the R-rated edit, but other sequences remain with visual alterations that play up the total mindfuckery of the whole story. The boundaries of the R-rating are definitely still pushed to their limits and if you are squeamish, this one probably isn't for you.
If you are even slightly intrigued at the thought of 'The White Lotus' on acid, add this to the top of your queue.
B+
How to Watch Brandon Cronenberg's 'Infinity Pool'
'Infinity Pool' is available now in its R-rated theatrical version to buy from all digital providers for $14.99. It will be available to rent starting February 28. NEON already has a pre-order page on their website to rent the uncut version of the film beginning February 28 as well. No word yet on whether all the standard digital providers will be offering the uncut version, but this does bode well for a physical media release.
As part of NEON's streaming deal, the movie should move on to Hulu in the months ahead after it finishes its VOD run.
Looking for more great films to watch? Check out our February streaming preview!
About Author