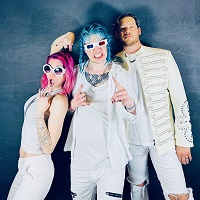 Along with the highly anticipated debut of The Frst's "Tarantino" music video, we had a chance to sit down with the band and get to know them a little better.
The project began in 2017 with singer and guitarist Mikei Gray out of Nashville, Tennessee. After spending time on the road with acts like Sublime with Rome, Village People, and Portugal. The Man, Gray set out on his own. The early days of the project featured a rotating cast of well-known musicians.
Fast forward to today and The Frst has solidified its lineup with Gray, vocalist/bassist Laura Dobransky, and drummer Jeffrey "Cashmere" Hutchins. Our interview touches on the evolution of their lineup, where you can catch them next live in concert, and some advice they'd like to pass on to up-and-coming musicians.
For more information visit the official Frst website or stay connected on Instagram and Twitter. Be sure to check out "Tarantino" live from MendoWerks down below and stay tuned for all the exciting things on the way from the band.
How would you describe your sound to someone who's never heard your music before?
Laura: Anti-social-media grungey pop rock.
Mikei: (Laughs) I think Laura got it pretty well. The sound shifts a lot from single to single, but no matter what, it's alternative.
Tell us about how you ended up recording a new version of "Tarantino".
Mikei: With TF getting back out on the road we wanted to give the fans an idea of what the new line-up sounds like live. What better way than to record our best-known song live?! (Laughs)
Laura: Yeah, after deciding to play in the band we hit the studio and tried it all together- we felt the magic.
Could you provide some insight into how the band's lineup has evolved over the years?
Mikei: The revolving line-up was a big part of the project in the early days. From then to now, Jeff and Laura were always kinda the two constants. When Covid hit, I was kinda forced to do The Frst solo for a few years until things cooled down. But I always envisioned it as more of a band.
Laura: I started out as a fan, then doing photography. Then videography, then reluctantly appearing in them…then finally playing bass.
Who are some of your musical influences?
Mikei: From Radiohead to Lil Peep, Beck to the Beatles, Dr.Dre to Dr.Dog, A7X to ABBA (laughs) okay maybe not ABBA! But anything with good songwriting and a good beat. Gotta throw Marley in there. We recently discovered Switchfoot is a guilty pleasure of the whole band (laughs).
Jeff: A7X, Michael Jackson, The Beach Boys, MCR…
Laura: Beck, Blink 182, Anderson Paak, Tame Impala, Sublime
What's one piece of advice you'd pass along to other aspiring musicians?
Jeff: Always make it fun, don't compare yourself!
Mikei: Don't quit. Best advice I ever got. Most people do though.
Laura: Just keep going and have f*cking fun!!
How do you prepare for live performances?
Jeff: Practice – High repetition of each song. I'll listen to each song at least seven times before I play drums to it. Then I'll play the song while drumming at least seven more times. Then I'll have a good handle on it…
Mikei: I guess it kinda depends on where and when the gig is. There are some shows where you just have to run on stage without any warm-up time. But ideally, warming up our voices with some lip trills and cracking a few good jokes to get our diaphragms working…
We know you have some big shows coming up! Where can people see you next and where can people get tickets)?
Mikei: Yes thank you! Up next is Tampa, Feb 24
Jeff: and Nashville March 15th!
Laura: Tickets for both dates are available at: https://punknite.com/
Mikei: Thanks so much for having us, and thank you for reading!
Are you enjoying MendoWerks Magazine? Receive updates each week directly in your inbox. Sign up for the newsletter here.
About Author