Despite going to the theater less than ever, I saw over 120 new release films in 2022.
When it comes to the modern theatrical experience, I'm reminded of 'A Tale of Two Cities' when Dickens wrote "It was the best of times, it was the worst of times."
There are more opportunities than ever for premium moviegoing experiences with multiplexes adding IMAX and Dolby Cinemas across the country, but for the most part, the chain theaters are abysmal at technical presentation. Hell, many theaters aren't even screening movies on the proper sized screens.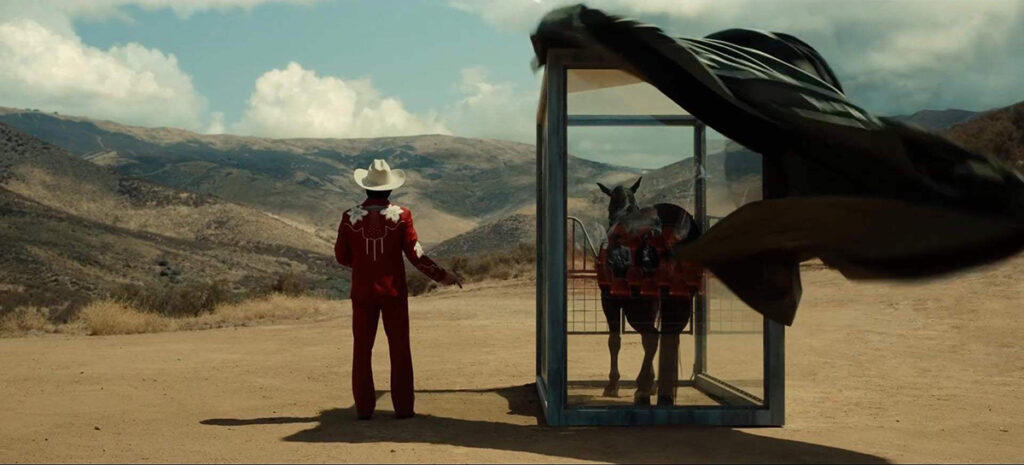 But with more and more 4K HDR offerings at home and many new releases being offered for viewing on my couch within 17 days of release, it makes it easy to watch exactly what I want whenever I want it. Ideally, I would always prefer a proper movie theater screening, but those ideal situations don't present themselves often.
Chances are, there are a lot of movies that came and went from your local theaters that you have been meaning to check out. Here's some of what I think are the best films of 2022 and how you can watch them.
#1 – Everything Everywhere All At Once
A24's highest grossing film is a genre-bending multiverse tale filled with absurd comedy and incredible visuals. Michelle Yeoh and Ke Huy Quan are hopefully headed to the Academy Awards in recognition of their incredible performances.
(Available now on 4K Ultra HD, Blu-ray, DVD and digital; streaming on Showtime)
Dean Fleischer Camp's directorial debut adapts his YouTube shorts into a delightful feature-length stop-motion animated masterpiece.
(Available now on 4K Ultra HD, Blu-ray, DVD and digital)
This quietly powerful Irish tale from Martin McDonagh ('In Bruges') follows the dissolution of a friendship in the early 1920s. Colin Farrell, Brendan Gleeson, and Barry Keoghan give terrific performances in a movie with genuine heart, introspection, and a lot of tall pints.
(Available now on Blu-ray, DVD and digital; streaming on HBO Max)
#4 – Babylon
Ambitious. Over-the-top. Indulgent. Flamboyant. Damien Chazelle's latest film is all of those things and more. Margot Robbie and Diego Calva are luminous in this story of the excesses in early Hollywood.
(Now playing in theaters nationwide)
I've raved multiple times this year about David Siev's directorial debut, which is a film that has stuck with me since viewing it during the SXSW Festival earlier this Spring. He chronicles his Asian-American family and the perils they face while operating a restaurant during the early days of COVID-19 in rural Michigan where they are surrounded by callous Trump supporters. This is vital and intensely personal filmmaking.
(Available now on digital services)
Rian Johnson returns to bring us another excellent Benoit Blanc whodunit. Kate Hudson is sublime as a dimwitted diva named Birdie Jay and Janelle Monae is simply stunning as Miles' former business partner. This is so joyful and fun, it makes you want him to keep making these every few years until the end of time.
(Streaming on Netflix)
#7 – Nope
After the tremendous success of 'Get Out' and 'Us,' Jordan Peele returned to theaters this year with another solid genre picture that was clearly sold as a horror movie but is more of a bizarre blend of Western/Sci-Fi. Keke Palmer steals the show and longtime Christopher Nolan collaborator Hoyte van Hoytema makes it all look like it had a bazillion dollar budget.
(Available now on 4K Ultra HD, Blu-ray, DVD and digital; streaming on Peacock)
#8 – TÁR
Todd Field's first film in 16 years is a lengthy examination of the life and career of a problematic woman, played expertly by the legendary Cate Blanchett. She stars as Lydia Tár, a composer who is not based on a real person but you'd be forgiven for thinking this is a painstakingly researched biopic because that's exactly how it plays.
(Available now on 4K Ultra HD, Blu-ray, DVD and digital; soon to stream on Peacock)
#9 – Return to Seoul
Park Ji-Min gives an unforgettable performance as Freddie, a young French woman who finds herself on somewhat of a whim trying to track down her birth parents in South Korea on a brief trip. Director Davy Chou takes us into nearly a decade of Freddie's life and introduces us to a character that is equal parts fascinating and frustrating.
(After an Oscar-qualifying run, this will open in New York and Los Angeles on February 17, before expanding around the country. In English, French, and Korean with English subtitles.)
#10 – All The Beauty and the Bloodshed
Laura Poitras directs this powerful documentary about Nan Goldin's life and career as an artist. But it dives much deeper than her work. It also shows us her incredible activism against the Sackler family as she leads a group of people trying to hold them accountable for their role in the opioid epidemic. It's highly impactful and completely unforgettable.
(Now playing in select theaters)
Just outside the Top 10 in my Best Films of 2022
The Northman, Corsage, The Menu, Happening, Good Luck to You Leo Grande, Top Gun: Maverick, Mrs. Harris Goes to Paris, The Territory
What are your best films of 2022? Let us know in the comments!
About Author