'Glass Onion: A Knives Out Mystery' hits Netflix with rarified air. It is a sequel to a hit movie that just may be better than the original.
When the first film was released in 2019, it was a surprise box office juggernaut, earning over $300 million in theaters around the world. But Johnson had only signed a deal for one film with Lionsgate and then more suitors came to call.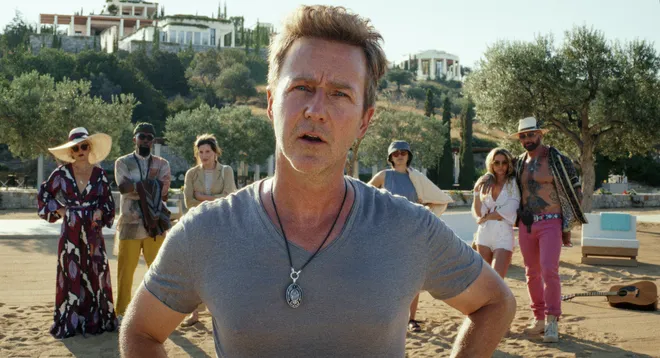 In the end, Netflix offered over $450 million to make two additional 'Knives Out' movies with Daniel Craig as detective Benoit Blanc. The rest was up to Johnson's infinite imagination.
This time around, an eccentric billionaire named Miles Bron (Edward Norton) invites his best friends to his private island in Greece for a "murder mystery" game. This is ruined almost immediately thanks to the invitation of Blanc, who barely needs any time to solve it. This is a mere ruse for the actual reason why everybody was invited and Blanc has to work to figure that out before anybody actually dies.
The Verdict
Delightfully creative, wickedly funny, and packed with outstanding performances, 'Glass Onion: A Knives Out Mystery' is so much fun to watch.
A massive part of that is the cast. Craig is, yet again, chewing up the scenery and delivering the goods. He's also subtly, but explicitly, outed in the sequel as living with longtime partner Phillip (Hugh Grant). Kate Hudson is sublime as a dimwitted diva named Birdie Jay and Janelle Monae is simply stunning as Miles' former business partner. Other members of the talented supporting cast include Dave Bautista, Kathryn Hahn, and Leslie Odom Jr.
The movie is packed with cameos and surprises galore. As the layers of the glass onion are peeled back, you'll learn more and more about motivations. It's all built to withstand multiple viewings and this is a film that will actually reward them.
A+
How to Watch
'Glass Onion: A Knives Out Mystery' is streaming now globally on Netflix.
Looking for more to watch? Check out our December 2022 streaming preview for more.
About Author