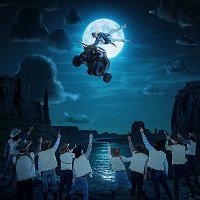 Oliver Tree's deluxe album, Cowboy Tears Drown the World in a Swimming Pool of Sorrow, is now available for streaming on all major platforms. In addition to the original track listing, this expanded edition includes 11 additional songs and the official video for "Suitcase Full of Cash." The project features viral stars Alissa Violet, Tana Mongeau, Viking Barbie, and  Melissa Ong and continues a string of innovative music videos from the genre-bending Tree.
The original version of Cowboy Tears was released in February of 2022. The album spawned hit singles like "Swing & Miss", "Freaks & Geeks" and "Cowboys Don't Cry". Collectively the songs and accompanying music videos have connected with fans. Tens of millions of streams and views are ultimately the result.
The album drop comes on the heels of another new collaboration with Grammy-nominated producer Robin Shultz. The high-energy single "Miss You" debuted top 10 on Billboard's Hot Dance/Electronic Songs chart. The quirky music video was directed by Tree and was seen by more than 50 million people in its first 30 days.
Connect with Oliver Tree on his official website. If you're not following along on Tik Tok and Instagram, you're missing out.
Tracklist: Cowboy Tears Drown The World In A Swimming Pool Of Sorrow
I Hate You
Placeholder
Mind Control
Wasteland
Battleship
Sunshine
Replacement
Oxymoron
Crash Test Dummy
The Exploding Man
A-Okay
Cowboys Don't Cry
Swing & A Miss
Freaks & Geeks
Doormat
Suitcase Full of Cash
Cigarettes
Balloon Boy
Things We Used To Do
California
Get Well Soon
Playing With Fire
The Villain
Cowboy Tears
Are you enjoying MendoWerks Magazine? Receive updates each week directly in your inbox. Sign up for the newsletter here.
About Author