Seldom does an artist make such an impression on me that their release dates get written on my literal calendar… and I will openly confess that I wrote down the release date for On Ephemeral Wings as soon as w/out announced it.
There wasn't a chance in hell I was going to miss this one, and I made it my mission to ensure that you wouldn't miss out, either. Even if electronic music isn't your usual cup of tea, you should make an exception for this EP.
Read on to find out why.
On Ephemeral Wings by w/out, now streaming everywhere.
On Ephemeral Wings by w/out is a 6-track EP released by Perfectly Imperfect on November 17th, 2022.
In anticipation of its release, the artist teased audiences of what's to come with two singles: "Cloud Angels" and "Feeling of The Wind Gone".
Find the full EP on your favorite streaming platform today, or stream on Spotify using the embed below.
The first phrases that come to mind when I think about On Ephemeral Wings are "gorgeously cinematic", "dynamic yet cohesive", and "the perfect length". That's the short version of this review.
Despite moving through a variety of textures and moods, this EP fits together the way that albums are meant to: as a cohesive whole. In that way, it's refreshing, almost nostalgic, especially in a world where singles dominate, and finding continuity between tracks is a rare feat.
You can absolutely get lost in this EP in the same way you can find yourself lost in a great novel or the perfect escapist video game. Just close your eyes and listen.
It's almost therapeutic in that way.
On Ephemeral Wings: the art and track list: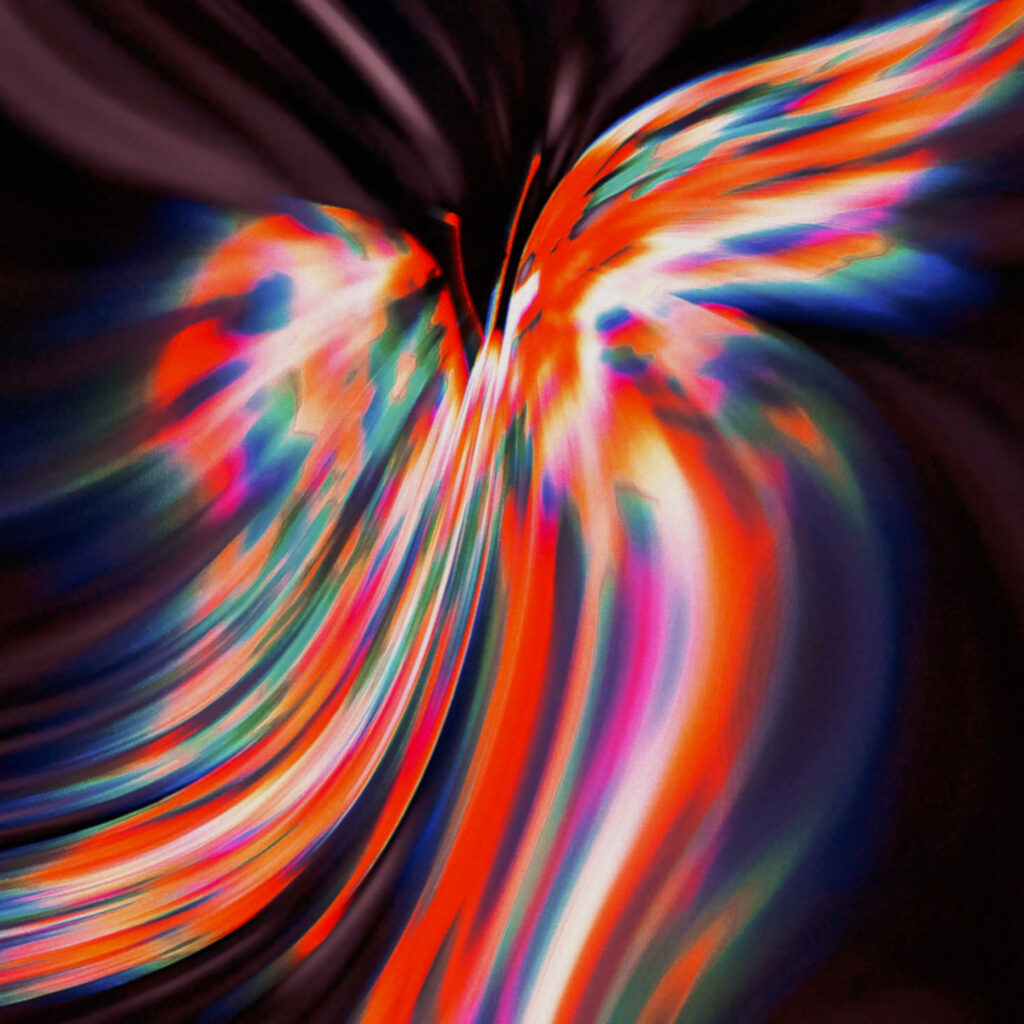 Track list:
1. On Ephemeral Wings
2. Suspended Scenes
3. Feeling of The Wind Gone
4. Do U Feel
5. Kaleidoscopic
6. Cloud Angels
An irresistible intensity creeps in after the first two tracks' more atmospheric, hopeful soundscapes. They emit this "walking on air" type feeling when you lean into them.
However, track 3, "Feeling of The Wind Gone", has a darker sheen to it. I especially loved the build around the 2:55 mark. This emotional climax subtly builds through track 4, "Do U Feel", and is truly realized in the fifth track, "Kaleidoscopic". Track 5 may very well be my favorite (although it is hard to choose!) because of this.
The EP wraps up with a tonal shift in "Cloud Angels"—which I initially described as "the happiest beats", according to my notes.
Normally, a shift between something so anxious and tense to something so upbeat would turn me off because of how jarring it can be.
However, w/out delivers a satisfying conclusion.
This mood shift feels like a natural progression despite the tracks being in contrast. It's not jarring because of the way w/out expertly executes their transitions between tracks and because of the order they chose to place them in. This skill is on display throughout the whole EP. It's what makes it so cohesive, despite the fact that it takes listeners on a journey through a huge variety of emotion and sound.
In short, it's a solid A+ of an EP, and honestly one of my favorites of the year.
While all the tracks definitely stand on their own, but I would urge you to listen to the full EP all the way through, at least once, before forming a definitive opinion.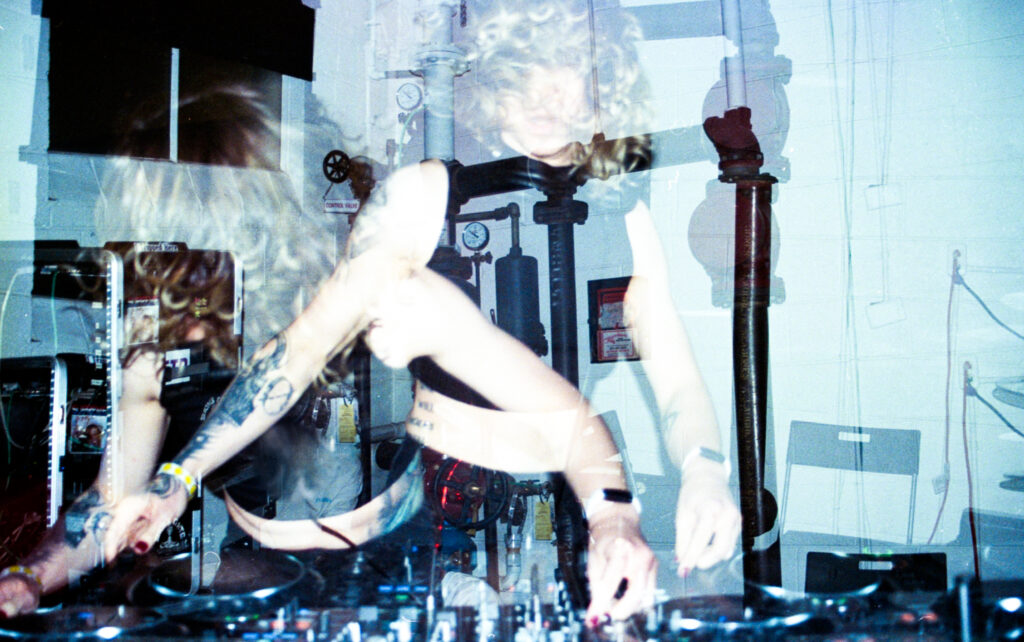 In the artist's words…
"My goal with this EP was to double down on the w/out sound," the artist explains on their SoundCloud page. "I explored more styles that I've been wanting to for a long time, like combining wave with metal, while doing more with the sound I've already established."
Their willingness to break down genre walls and stay true to their authentic vision is the thing I always admired most about w/out. It is the mark of a true artist to not let labels or trends define them. I hope w/out's creative fire never burns out–and at this rate, I don't think it ever will.
---
Meet w/out: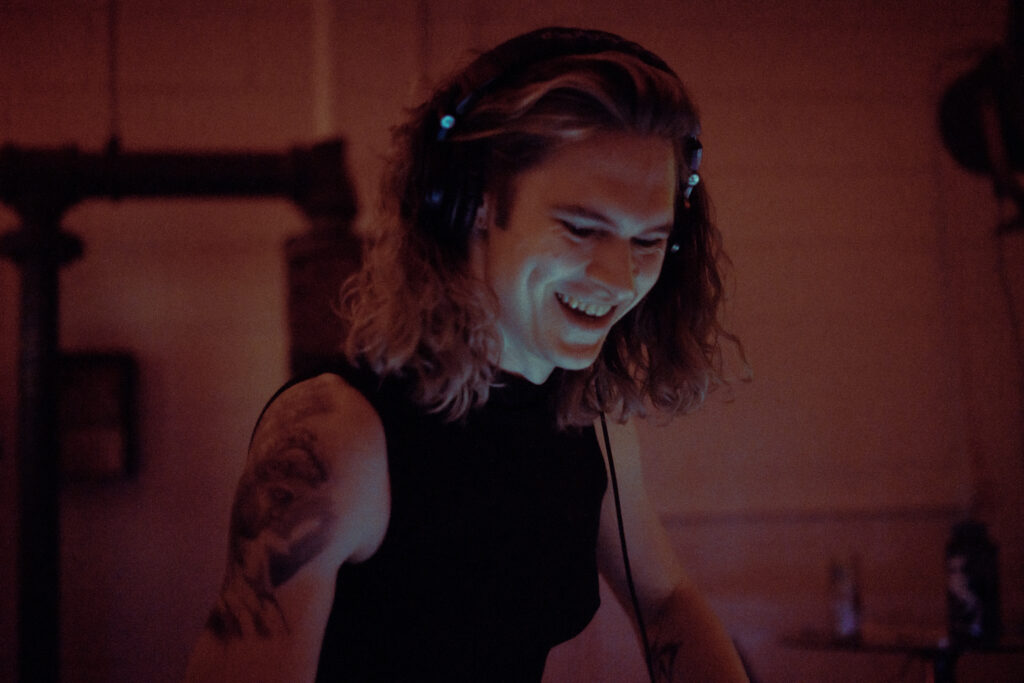 About:

"Denver-based electronic producer Dani Oprea, also known as w/out, finds beauty in unexpected places. Their eclectic balance of delicate production with bass-laden tones and gritty breaks is a product of their lifelong relationship with music. w/out composes songs that hit in the club yet can be enjoyed at home, through tracks that are full of raw emotion, moving melodies, and distorted rhythms.

w/out resonates with listeners so heavily because of their ability to embrace imperfection. They confess, "I'm not perfect, and neither is my music."

While you explore their passionate and personal discography, you'll come to find that the beauty truly is in the quirks.

Their music has garnered the attention and praise of artists like Hex Cougar and Eastghost, and their influence in the growing wave community cannot be understated. w/out has shared stages with Deadcrow, Skeler, and Ravenscoon, and performed at Soul Food Music Collective's Homecoming, Electric Hawk's Harmony Festival, and High Ground Music and Arts Experience. With a goal to cultivate a community that connects with people on a deeper level, there's no doubt w/out's dynamic yet soulful sounds will reverberate in your hearts."

Bio sourced from the artist's website; photo by Ashleigh Alexis.
---
A Historical Headliner:
In case you missed it, w/out is one of the headlining artists playing North America's first-ever wave festival, Pantheon. If you want your chance to see w/out live before the end of the year, you need to get to Seattle in December.
They will be doing a B2B set with RamonPang. It's promised to be an "unhinged" performance… in the best way, of course!
You can get tickets to the historic event here.
If you ask me– it would be worth going to the festival just to be able to see w/out live.
I'm not exaggerating. Last December, I flew to Seattle for that exact purpose.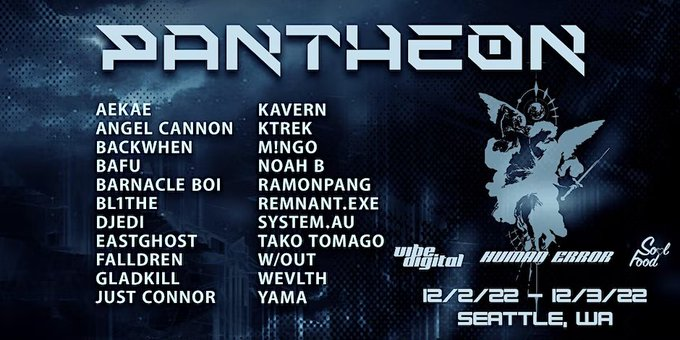 Honestly, it was seeing w/out's name on the festival announcement that really sold me on the it. w/out has a stage presence like no other–and their hype always extends to the folks that they are playing with as well. Show-goers aren't immune to the good vibes, either; I always leave a w/out show feeling better than I had in months. Mentally, physically, spiritually…
There isn't a "special guest" out there that the promoters could announce in the days to come that would top w/out's inclusion on the line-up for me. The release of On Ephemeral Wings is simply more evidence of the artist's boundless talent and relentless creativity and I very much so look forward to their performance at the festival.
w/out may not be your typical wave artist… but wave wouldn't be wave if not for w/out, and that's a fact.
---
Need More w/out?
I don't blame you; w/out is definitely the one to watch going into 2023.
To catch you up to speed, here's a taste of what else the artist has been up to lately:
Listen to Ravenscoon Radio: Episode 13, ft. w/out!
A Video Message From the Artist:
---
Stay in Touch!
Keep in touch with w/out across social media and via their linktree.
---
Looking for more wave music?
Check out the last Breaking Waves issue here, in which YAMA discusses all things HE// Collective & Pantheon.
Or perhaps enjoy a blast from the past and check out this interview with M!NGO.
About Author