Talented singer-songwriter Maggie Cubillos has released her debut single. Although "Old Shoes" is her first official release, she spent a good deal of her life on stage in a variety of capacities. She is currently a junior at Berklee School of Music in Boston, Massachusetts.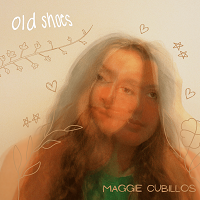 "Old Shoes" is a relatable mid-tempo number that draws on influences from singers like Phoebe Bridgers, Gracie Adams, and Taylor Swift. Each artist that Cubillos has cited as having drawn inspiration from. When it came to the meaning behind the song she had this to say.
""Old Shoes" is about embracing change and moving forward. I wrote it at a time in my life where I felt like everything around me had shifted and I had to decide whether I should stay afraid or embrace it and grow with it. I think writing this song helped me realize that sometimes change isn't as scary as we think and there's so many good things that can come from it."

-Maggie Cubillos
Produced by Steve Ornest who also plays guitar on "Old Shoes", the song was recorded at Total Access Recording in Los Angeles. Artists like Guns N' Roses, Sublime, and No Doubt have recorded there previously. The song also features Matt Rubano (Taking Back Sunday, Lauryn Hill, Outasite) and drummer Rob Humphreys (Kasey Musgraves, Jason Mraz, Elle King).
Stay tuned for more music and show-related announcements. For updates follow Maggie on Tik Tok and Instagram and let us know your thoughts on "Old Shoes" in the comments section down below.
Are you enjoying MendoWerks Magazine? Receive updates each week directly in your inbox. Sign up for the newsletter here.
About Author