You ever thank an artist for releasing something? Yes? No? –Well, that was me with M!NGO this week.
We've hit the midway point in our #gothgirlsummer and ya'll, let me tell you, I was really thinking I wasn't going to make it.
At least, that's what I would tell you if you had asked me earlier this week how I was doing.
I'm still melting- and life is still chaos-
But, then– I got a little notification that Mr. M!NGO put together a playlist of "THINGS U MAY HAVE MISSED" on SoundCloud and it turned my whole week around.
That's not all–
If you checked Spotify this week, you'll notice that he graced us with not one, but four tracks on there as well!
More M!NGO in more places? Yes please.
Don't know where to start?
Let me suggest "Faded"–
This track captures everything I love about playing Silent Hill games with friends—you got phenomenal beats and all the spooky, chill vibes you could ask for.
Akira Yamaoka would be proud.
---
"So, who the hell is MINGO?"
Gosh, I can't believe you'd ask such a question. (I'm kidding–we don't judge anyone here at Breaking Waves—we're all here for a learning experience!)
M!NGO is the man—he's Man like M!NGO.
I'm teasing.
Check out his bio, below, and then read on to find an interview with the legendary vibe.digital founder himself.
And while you do—
Don't forget to catch up on the 'Things U May Have Missed'—
Trust me–I kept going back to it, and you will too.
---
Meet M!NGO.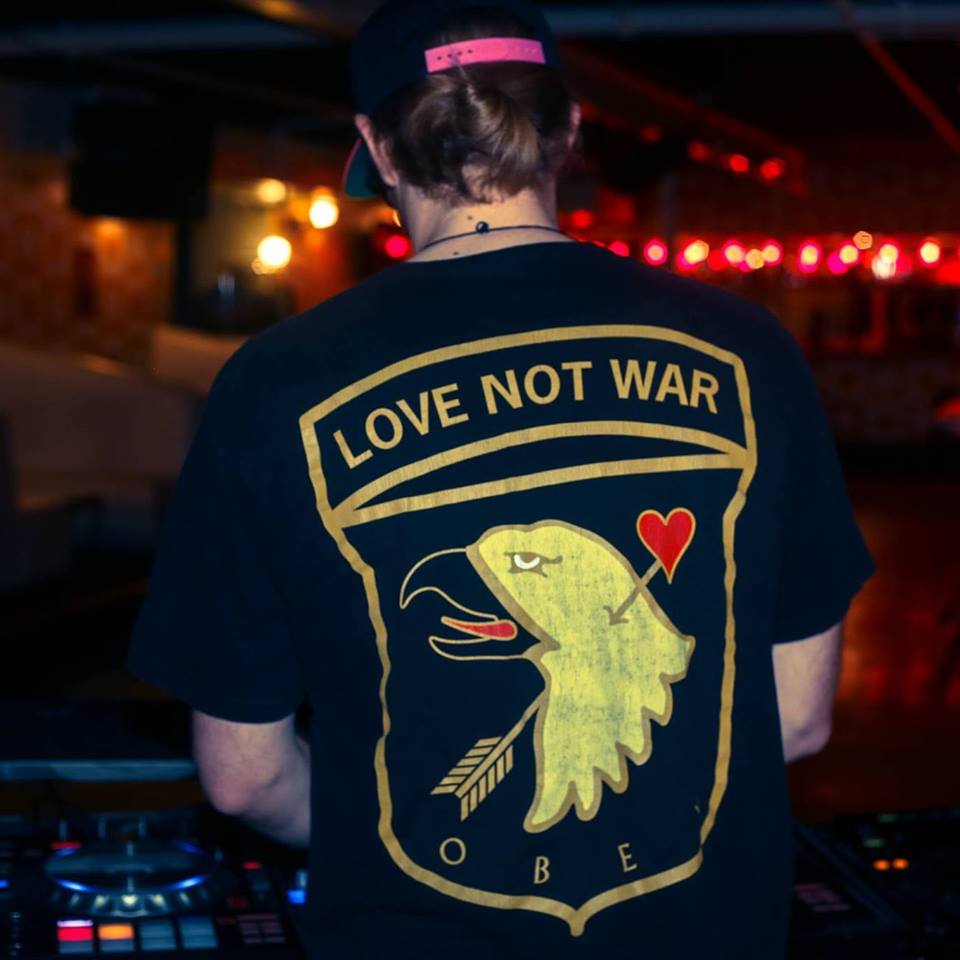 "M!NGO has been enthralling fans with his personal brand of underground bass music ever since he appeared on Plastician's influential Rinse FM show back in 2016. His adept blending of ethereal soundscapes with weighty sub-bass quickly established him as a mainstay of the wave scene. The Colorado based artist dropped his first full-length EP, 'M!NGO', in 2017, receiving huge acclaim. Since then, he has released with several pioneering labels, including Plastician's Terrorhythm. In March of 2018 Fyoomz ,M!NGO & Djedi created the label know as VIBE.DIGITAL which has allowed them to showcase Artists from around the world.
MINGO's 'PLANET M!NGO', demonstrates just how far his sensitive craft has taken him. With this release he has managed to surpass his traditional emotional intensity, to create something truly captivating.
'PLANET M!NGO' doesn't seek to simply challenge, but to ensnare. As the composition progresses, the listener is drawn ever-deeper into a murky swamp of psychedelic imagination. Meditative, seductive and punchy as hell, 'PLANET M!NGO' is a quintessential example of the thrilling innovation emerging thick and fast from the wave scene." (vibedigitalagency, Jul 2022)
---
A Chat with the Legend, the Myth, The Man… like M!NGO:
You've been dropping a bit of music lately! Do you care to speak on your work or your artistry?
M!NGO: "I try to release music as often as I can make it, so I can continue to grow and express myself better. Music, for me, is a way to put things I can't really say in words into sounds. Helps get things off my chest."
What does wave mean to you?
M!NGO: "Wave, to me, is a huge community of people that all love sounds. It's really hard to pin it into one genre. There are so many different interpretations of what it is and where it started. But […] the main birthplace was on SoundCloud; it really made it so international that you can't say it's from 'this place', like reggae, or techno, or rap."
As one of the OGs in the scene, I was wondering… how would you describe the community aspect of the scene? It's something that's come up quite often in conversation with folks and I'd love your take on it.
M!NGO: "It's probably one of the most loving communities I've ever been around. And because there are no real rules or limits, there is a pocket of wave for every person to attach to and become apart of the family, in a sense."
That's really beautiful. Pivoting slightly– as one of the founders of vibe.digital, do you care to speak on your role there, or about the agency/label and its impact on the scene?
M!NGO: "Vibe was an idea that Donny, AKA Fyoomz, had once we were kind filling the void post- Plastician no longer doing the Rinse FM shows. Then, we found a beautiful human named Brett, AKA Djedi, and the 3 of us all have different strengths that support each other. It's kind of a perfect storm."
I'll say. Okay, so this next one starts with a quote– five years ago, Kareful was asked where he saw wave going in the next 5 years. He said, 'Fucking really big, I predict it being really big on the festival circuit and possibly have its own stage decorations and stages that specifically play Wave. I also think it won't be long until it's being picked more by Sync companies and I always saw Wave being played in things like car adverts, etc.' On a similar note- Do you care to reflect on how the scene has developed since vibe.digital was first established? Where do you see wave going from here?
M!NGO: "I see certain artists are gettin' bigger and I think that will continue to happen. As far as wave as a whole, I think most of it will always stay underground because that's what keeps it personal and makes you feel like you are apart of something special.
As it gets bigger of course you lose that intimate factor.
I hope it gets in commercials though–that would be awesome to see happen."
This last one's more of a side curiosity—but I see ManlikeMingo made a pivot into MingoCannabis. Many would say that listening to music and cannabis go hand in hand; what I'm curious about is how you got into the canna-biz, and if there are any surprising crossovers between the two industries?
M!NGO: "I started growing a very long time ago and have been in the cannabis industry for about 8 years now.
For me, it began as a search for help during the opioid crisis.
I had so many friends and family that were dying and I knew there was an herb that could help.
And then it soon became a passion because I love people so much. And now, I get to provide not only [relief in] people's lives, but now I get to be the soundtrack to some people's lives, [too].
That's all I care about–is making people happy and making sure they know someone loves them–ME!"
---
Keep in Touch with M!NGO:
---
Keep and Eye Out For Breaking Waves:
Want to be featured? Contact Ambur.
Coming Soon: The Liquid Ritual Tapes, coverage from the 2-Day London Event, chats with Nick Neutronz, and more…
Check out our wave playlist, updated ~monthly:
Past Issues, Related:
Alter/Ego Returns with "Instance" by VARI

Hex Cougar's Alter/Ego label returns in 2023 with a melodic-yet-glitchy new single by VARI: "Instance". This song is the first release coming from the label since its 2nd compilation album, which came out in April 2022. In short, there is so much movement in this one song that it's almost like embarking on a whole…

Seraph. and w/out Unite on Intricately Emotional New Song, "Ache"

Two brilliant electronic music producers, Seraph. and w/out, teamed up on an intricate and emotional new song, "Ache". This fresh wavy release serves as the second single off of Seraph.'s upcoming EP, Memento. The EP's first tender single, "Pulse," dropped earlier this summer. For fans of sophisticated and melodic electronic music, August 31st is the…

Wave Nation: ADE 2023 Lineup Announced

Welcome to Wave Nation: Amsterdam, the 2nd annual wave music event presented during ADE–this year, featuring artists like Skeler, REMNANT.exe, and more. Read on to find all the need-to-know details about the show, and why this one's particularly special to us here at MendoWerks. If you are planning on heading to the Amsterdam Dance Event…
About Author