Australian four-piece rock band The Faim has released its second full-length album Talk Talk. There's no sophomore slump here as they showcase a vast range of styles and tones spread out over 11 tracks.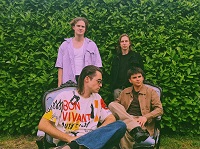 Talk Talk is the follow-up to their 2019 debut State of Mind. They worked with a number of esteemed producers and recorded songs in Los Angeles, Melbourne and Perth. Zakk Cervini (MGK, Yungbluld), Erik Ron (Panic! At The Disco) and Matthew Pauling (5 Seconds of Summer, State Champs) are all on board which helped showcase the bands' influences.
On their most recent single "Me Because of You", they turned inwards and self-produced which meant a lot to the band. Bassist Stephen Beerkens had this to say about the track.
Me Because of You' was written about embracing change and letting go of a past version of yourself. The lyrics recognize the huge impact that someone else can have on the process. This song was a huge milestone for us, as it's our first release that has been self-produced

The Faim Tour Plans
The band is wrapping up a run of shows through the U.K. and European Union. They're set to kick off a tour of their home country Australia from there. Here's hoping we'll see some shows in the US sometime later this or early next year.
The Faim got together in 2014 and features Josh Raven on vocals and Samuel Tye on guitar with Stephen Beerkens and Linden Marissen holding down the rhythm section on bass and drums respectively. Even if you're just learning about the band, there's a chance you may have heard their music before without even knowing it. Their song "Summer Is A Curse" was used in a Jeep advertising campaign and they've also licensed songs to Coca-Cola and MTV.
DID YOU KNOW: The Faim translated in French means 'the hunger'.
For more information be sure to visit their website. Follow along on Instagram and Twitter for additional updates.
Tracklist: Talk Talk
madly, badly, fixed
The Hills
You (and my Addiction)
The Alchemist
Life in a Cinema
Faith in Me
Ease My Mind
Me Because of You

Flowers

Jealous Love
ERA
Are you enjoying MendoWerks Magazine? Receive updates each week directly in your inbox. Sign up for the newsletter here.
About Author