Peter Farrelly's follow-up to his mawkish Best Picture winner 'Green Book' is a more interesting film, but I'm not sure 'The Greatest Beer Run Ever' is a good movie.
Actually, I'm quite positive that it isn't, but it is an inherently watchable one.
That has everything to do with Zac Efron, who makes a rather unlikeable character surprisingly sympathetic. He plays John "Chickie" Donohue, a merchant Marine in 1967 New York City who concocts a rather ridiculous plan while out shittalking at the bar with his buddies.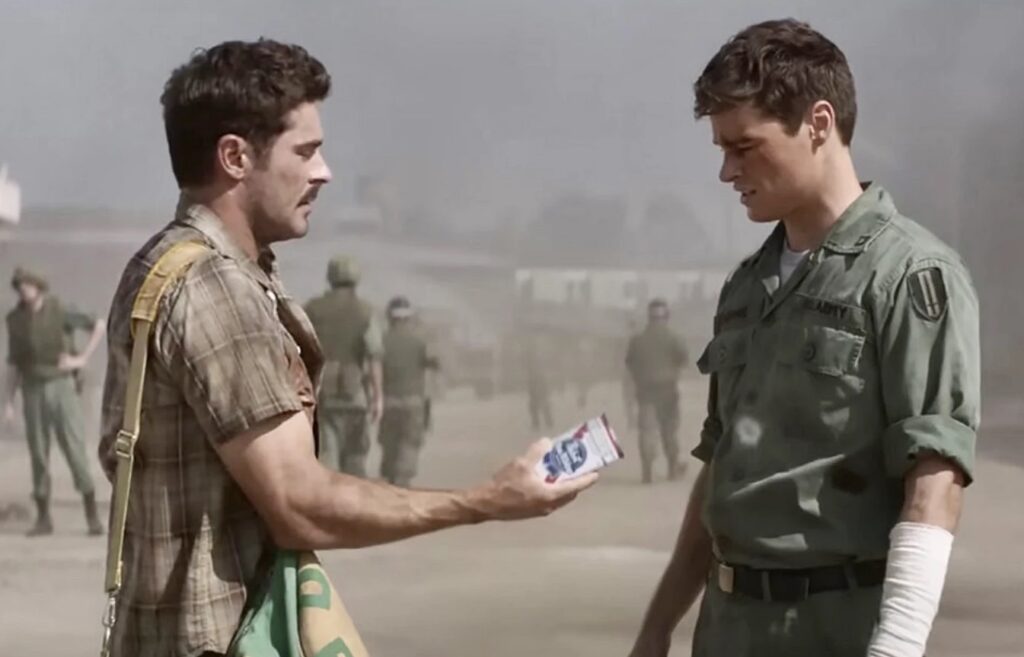 From the Five Boroughs to Da Nang
If this wasn't based on a true story, you'd be forgiven for thinking the plot was absurd. Chickie makes a plan to go to Vietnam and deliver cans of Pabst Blue Ribbon to the enlisted soldiers from his neighborhood. You know, to show them that everybody back home is rooting for them. Or something.
But heading into an active war zone isn't an easy task. So he gets assigned on a merchant ship headed to Vietnam with a duffle bag full of PBRs and the idea that he could get a 3-day leave to begin his journey.
The book that the real Chickie Donohue wrote that this is based on is subtitled 'a memoir of friendship, loyalty, and war.' And it is all of those things. But as a movie, Farrelly simply has no idea how to master the tonal shifts. It goes from light hearted comedy to "gee-whiz, maybe war is kind of bad' in whiplash fashion. Efron's charm manages to go a long way to getting the audience to follow that throughline, but I don't think the movie has anything at all to say about the Vietnam war that we haven't seen a million times.
The Verdict
After a slow build, the film does kick into gear once we're in Vietnam and Chickie starts to see that things during combat are not at all as they appear watching the war on television. Aside from Efron, the cast features Bill Murray and Russell Crowe, both of whom have limited screen time, but help to elevate the material.
Legendary music supervisors Tom Wolfe and Manish Raval help deliver a soundtrack that isn't filled with the same old needle drops we hear in every movie of this period. It was refreshing to hear songs from The Bar-Kays, The Association, The Electric Prunes, and Vashti Bunyan in the mix instead of oft-recycled tunes.
Despite it's faults, I do think that 'The Greatest Beer Run Ever' is worth watching in the end. Just manage your expectations and tag along on a very unexpected journey that includes a lot of warm beer.
C+
How to Watch
'The Greatest Beer Run Ever' is playing in theaters nationwide and streaming now on Apple TV+.
Looking for more to watch? Check out our September 2022 Streaming Preview!
About Author