Iconic hard rockers Godsmack return with their first new music in more than four years. "Surrender" is the lead single from a new album that is expected before the end of the year. While the official release date is unannounced, we'll update this article as more details become available.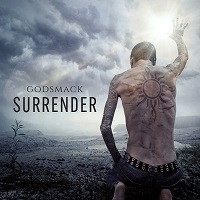 According to frontman Sully Erna, the new track "…is simply about the exhaustion we can all feel in relationships at times from the redundancy of fighting with each other. At a certain point in our lives, we submit to putting aside who's right or wrong, we just want it to STOP! So we wave the white flag".
The release of "Surrender" follows their gold-certified When Legends Rise album. The Grammy-nominated band has had a staggering 11 #1 singles and 20 top 10 hits at rock radio. And with that amount of success, there are sure to be critics along the way. However, it's indisputable they are one of the most acclaimed bands of the past few decades.
Godsmack Responds To Fan Criticism
While the response to "Surrender" has been overwhelmingly positive, Godsmack responded to fan criticism on social media that the song was too 'poppy'.
Whether you like the newer stuff or not, we've been at it for 30 years now. No one is gonna be the same people in their 50's as they were in their 20's. If they are, that's a real problem. We write our music where we are in our lives via the present. If you prefer the older stuff, awesome…. it lives on forever and you can always jam to any of our older albums whenever you want to.

-Godsmack Facebook post
Kudos to the band for taking the time to respond. The uptempo "Surrender" is more polished than some of their earlier material but showcases their evolving ability as songwriters.
Godsmack is set to kick off a European tour later this week. Kicking off in Cologne, Germany they'll make stops in the U.K., Italy, Switzerland, and more. Their November itinerary includes several shows in South America. Could we see some dates in the U.S. in the new year?
You can connect with Godsmack at their website or by following along on Instagram and Twitter.
Enjoying MendoWerks Magazine? Receive updates each week directly in your inbox. Sign up for the newsletter here.
About Author