A Day To Remember will continue with their busy tour schedule this year with a special run of acoustic shows. Set to kick off November 29th at the iconic Ryman Auditorium in Nashville, the tour runs through December 21st in Orlando Florida.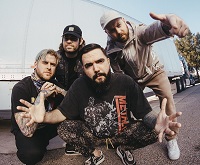 Pre-sale is underway now with tickets on sale to the general public this Friday (October 7th). Wage War will be opening up each show and will also be performing acoustically. A Day To Remember continues to perform on their Just Some More Shows tour which wraps up later this month with a performance at the When We Were Young Festival in Las Vegas.
To get a sense of what you can expect at an ADTR acoustic show, you can check out A Day To Remember: Live at The Audio Compound. In January of 2021 they hosted a live stream on their YouTube channel and performed a nine-song career spanning set that they turned into an album. Two months later they released their seventh studio album You're Welcome.
A Day To Remember returned to action this past summer with the release of the energetic new single "Miracle" in July. Connect with A Day To Remember at their official website or follow along on Instagram and Twitter.
Reassembled Tour Dates
Tuesday, November 29th – Nashville, TN @ Ryman Auditorium
Thursday, December 1st – Charlotte, NC @ Ovens Auditorium
Friday, December 2nd – Atlanta, GA @ Coca-Cola Roxy
Monday, December 5th – New York, NY @ Beacon Theatre
Wednesday, December 7th – Rochester, NY @ Kodak Theatre
Thursday, December 8th – Philadelphia, PA @ The Met
Friday, December 9th – Boston, MA @ Orpheum Theater
Sunday, December 11th – Detroit, MI @ The Fillmore Detroit
Monday, December 12th – Chicago, IL @ Chicago Theater
Wednesday, December 14th – Cincinnati, OH @ The Andrew J. Brady Music Center
Thursday, December 15th – Memphis, TN @ Cannon Center
Saturday, December 17th – North Charleston, SC @ North Charleston Performing Arts Center
Sunday, December 18th – St. Petersburg, FL @ Mahaffey Theater
Tuesday, December 20th – Ft. Lauderdale, FL @ Broward Center
Wednesday, December 21st – Orlando, FL @ Dr. Philips Center
Enjoying MendoWerks Magazine? Receive updates each week directly in your inbox. Sign up for the newsletter here.
About Author