Blue October frontman Justin Furstenfeld will make his feature film debut this fall. Section 8 starring Scott Adkins, Dermot Mulroney, Dolph Lundgren and Mickey Rourke will debut in theatres and on AMC+ on September 23rd.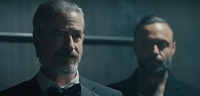 Playing a villain by the name of Ajax Abernathy, the film tells the story of a former soldier who avenges the murder of his family and is sent to prison. The character, Leonard Locke, played by Adkins is sprung from prison by a shady government agency after being recruited to join the entity.
Furstenfeld's Film Debut
The original screenplay was written by Chad Law and Josh Ridgeway. Section 8 was directed by Christian Sesman and produced by Brandon Burrows of Firebrand. According to a quote from Burrows via Deadline. "We are honored by Justin Furstenfeld's decision to choose Section 8 for his acting debut. He gives a fantastic performance". You can check out the new trailer below.
But that's not all for the Blue October frontman. According to a recent piece in The Hollywood Reporter, he'll be starring alongside Frank Grillo and Mehki Phifer in Lights Out. It's a story about an ex-soldier turned underground fighter who is pitted against corrupt cops and hired killers. The film due sometime in 2023.
New Album + Fall Tour
Blue October has been sharing the stage with the Goo Goo Dolls all summer. They'll head out on a headlining tour of their own this fall in support of their eleventh studio album. Spinning The Truth Around is a double album with part one due October 14th and part two expected in March of 2023. The lead single (and title track) debuted in July. Album pre-sales are officially underway.
Connect with Blue October on their official website or follow along on Instagram and Twitter for more updates.
Enjoying MendoWerks Magazine? Receive updates each week directly in your inbox. Sign up for the newsletter here.
About Author