An initial run of Blue October fall tour dates has been announced. If your city isn't on the list, don't fret. Additional shows are expected to be announced sometime soon. In the meantime, pre-sales are underway and VIP packages are now available.
This new tour follows a summer run of concerts performing with Goo Goo Dolls. A collaboration that was supposed to happen in 2020, was rescheduled until 2021 and eventually moved to the summer of 2022 for obvious reasons. The tour kicks off July 15th in Idaho and will run through September 24th in Buffalo. Closing night will be a big hometown show for the Goo Goo Dolls. From there, Blue October headline shows will pick up nearly a month later.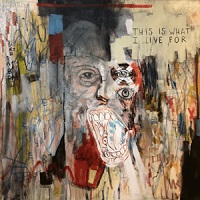 Blue October's latest album This Is What I Live For spawned the Top 10 hit "Oh My My" and stand out tracks "Moving On" and "Fight For Love" featuring Furstenfelds daughter Blue Reed. They've since announced two new albums will be out in October of this year and March of 2023, respectively.
Blue October In Spin
Frontman Justin Furstenfeld has just recently celebrated 10 years of sobriety. He discusses his recovery in a recent Spin Magazine article. And if the article piques your interest, the compelling 2020 documentary Get Back Up is worth checking out. The full-length feature follows Blue October's career and offers insight into Furstenfelds' (and the band's) journey.
Furstenfeld will make his acting debut alongside Dolph Lundgren, Mickey Rourke, and Dermot Mahoney in the action movie Section Eight this summer. According to a Deadline article, producer Brandon Burrows offers praise, complimenting his performance.
As for summer tour plans, the band is looking for feedback on which songs to dust off. Maybe we'll even get some acoustic tunes. If you'd like to have your voice heard, stop by their Facebook page and make a suggestion.
For tickets and information visit the Blue October website. For additional updates follow along on Instagram and Twitter. And keep your eyes peeled for more new music from the band sometime soon.
MendoWerks would love to hear from you! Submit your music now for a review.
About Author