Canadian punk rockers Handheld have delivered the John Candy tribute you might not have realized you needed. "Leaving Candyland" is a fun up-tempo homage to one of comedy's true legends. The music video features band members dressed up as a number of Candy's classic movie and television characters. How many can you spot?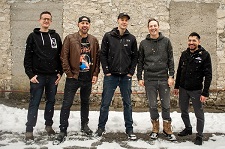 A Canadian Tragedy is the first new album in 14 years from Handheld. They formed in 1998 out of Ontario and are known for their loud, fast, and melodic punk rock jams. Fans of bands like Bad Religion, NOFX and Rise Against will feel right at home. We're hearing a hint of Blink 182 on "Leaving Candyland" too. And it's not just what appears to be a similar sense of humor.
Handheld released six albums/EPs over a 10-year period from 1998 to 2008. From there they went on a decade-long hiatus where some members went on to form Curbside. A 2018 reunion was cut short when the pandemic set in so they decided to record a new album.
How The John Candy Tribute Came About
When asked about the tribute to John Candy, the band had this to say.
We wanted to pay tribute to the great human that was John Candy and honour his life in a unique way. We picked 6 of our all time favourite John Candy roles which included: Barf from Spaceballs, Gus from Home Alone, Chet from The Great Outdoors, Del from Planes, Trains & Automobiles, Yosh of The Schmengie Brothers (SCTV) and Uncle Buck from you guessed it… Uncle Buck. Then for each character we shot an homage to our favourite scenes, sprinkled in some punk rock flavorings and what you get is one hell of a good time. This video is definitely big in Sheboygan.

-Handheld
For updates be sure to follow Handheld on Instagram or throw a 'like' their way on Facebook. A Canadian Tragedy will be available on June 14th via Thousand Islands Records. The album is full of songs about love, irony, coverup, scandal, folklore, and tradition all with a Canadian twist.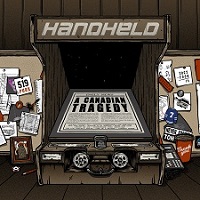 Tracklist: A Canadian Tragedy
Double Double DUI – 3:16
Leaving Candyland
On the Fly
Flip the Scrip
School in Session
Bend the Iron
Group of Six
Somewhere Over Kentucky
The Log Driver's Waltz
Life of a Hitman
Coming Home
MendoWerks would love to hear from you! Submit your music now for a review.
About Author