Alt-rock duo The Blue Stones are back with a perfect new single for summertime. "Don't Miss" is a melodic hard rocking song with a nice groove. The single drop is nicely timed as they kick off their nationwide tour with Des Rocs on Friday.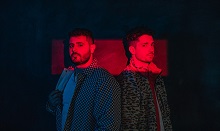 The Blue Stones consist of Tarek Jafar on vocals/guitar and Justin Tessier on drums/backing vocals. Based in Ontario, they made some waves in the US with their sophomore release Hidden Gems in 2021. The album was produced and co-written by Mutemath frontman Paul Meany and featured standout tracks "Shaking Off The Rust" and "Let It Ride".
On the new single they collaborated with Boonn who is known for his work with Grandson, Demi Lovato, and on the Suicide Squad soundtrack. As for the subject matter, it appears listener empowerment is the goal.
"We wanted every listener to feel just as confident as we did while recording this song, and give them a theme to revel in their own accomplishments with. This song is the smirk you give to anyone who thinks you aren't worth the hype."

-Tarek Jafar & Justin Tessier
A Dynamic Duo
The Blue Stones pack quite a punch despite being a duo. We've seen more of this type of lineup in recent years and Jafar and Tessier certainly make it work. Their sound can be described as being more on the Royal Blood side of things than a White Stripes vibe.
Their highly anticipated tour with Des Rocs kicks off Friday and they have a cool contest going on. If you submit a screenshot of your ticket to any of these upcoming shows, you'll get an entry. If you happen to purchase a VIP add-on, you'll get five additional entries.
Runner-ups will receive a tour t-short and signed poster. The grand prize winner takes home a signed guitar from both bands. Consider it if you're headed out to a gig. Full contest rules can be found here.
Stay in touch with The Blue Stones on Facebook and Instagram. Hit them up on their website if you'd like to purchase tickets for a show.
MendoWerks would love to hear from you! Submit your music now for a review.
About Author