Alt-rockers The Blue Stones have released a new single on the heels of a successful six-week headlining tour across America. "Good Ideas" is set to appear on their brand new studio album which will be out later this year. Pretty Monster also includes "Don't Miss" which dropped earlier this summer.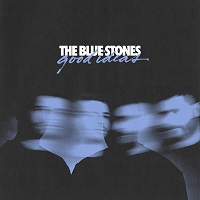 The Blue Stones consist of Tarek Jafar and Justin Tessier and are following up on their successful 2021 release Hidden Gems. "Good Ideas" was co-produced by WZRD BLD, known for their work with Highly Suspect and iDKHOW.
Earlier this year they spent more than a month working with a series of different producers to perfect Pretty Monster. They were looking to capture the passion and adventurous spirit of their live shows on the album.
When it came to "Good Ideas", Jafar had this to say.
You get to a point in writing music where you start to question everything, and it's pretty fucking frustrating. Imposter syndrome starts to set in and you go to some dark and ultra-negative places. I didn't think I was good enough to write anything at that point, and seriously considered just giving it up altogether. All of those emotions came out in the lyrics for 'Good Ideas,' he shared. "Instead of shielding the world from it, we figured it was best to put it out there and see if the song's content resonated with anyone that may have gone through that experience.

-Tarek Jafar
You can even text the band and let them know what you think. Be mindful of time zones.
The Blue Stones Fall Tour
After wrapping up the US leg of their tour, they'll focus on Canadian dates this fall with the exception of a performance on September 15th at the Bourbon & Beyond Festival in Kentucky.
09/02 – Kelowna, ON @ Denim On The Diamond
09/09 – Ottawa, ON @ CityFolk Ottawa
09/15 – Louisville, KY @ Bourbon & Beyond Festival
11/04 – London, ON @ London Music Hall
11/05 – Hamilton, ON @ The Studio
11/09 – Kingston, ON @ Ale House
11/10 – Toronto, ON @ Danforth Music Hall
11/11 – Waterloo, ON @ Maxwell's
11/13 – Montreal, PQ @ Le Studio TD
11/17 – Winnipeg, MB @ Park Theatre
11/18 – Saskatoon, SK @ Coors Event Centre
11/19 – Edmonton, AB @ Starlite
11/20 – Calgary, AB @ Commonwealth
11/22 – Red Deer, AB @ Bo's
11/24 – Victoria, BC @ Capitol
11/25 – Vancouver, BC @ The Vogue
Let's hope they return stateside for more shows earlier in the new year. This is a band to keep your eye on. They write edgy alt-rock songs with a groove. And that kind of stuff is right up our alley. To connect with the Blue Stones visit their website or follow along on Instagram or Twitter.
Enjoying MendoWerks Magazine? Receive updates each week directly in your inbox. Sign up for the newsletter here.
About Author