Alternative pop punk rockers 408 have debuted a new single and music video with Taylor Acorn. "Backfired" is the latest release from Out Of It, the band's debut album due this fall. The track combines pop punk and country music elements into a powerful duet that packs a memorable punch.
The band has teamed up with award-winning producer/engineer Andrew Wade and Andy Karpovck (A Day To Remember, Neck Deep) to record the album at The Audio Compound in Orlando, Florida. 408 leans on their pop-punk background while incorporating elements of hip hop and EDM while throwing some country vibes into the mix on this track specifically.
Taylor Acorn Collaboration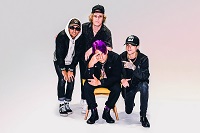 According to Acorn's All Music bio, she's a genre-fluid pop singer anchored in country but steeped in modern rock. Her breakthrough country hit came in 2017 in the form of "Put It In A Song". She returned to her pop-punk roots in 2020 with a cover of Mayday Parade's "Jaime All Over". 408 frontman Mark Faroudi had this to say about the song and how it all came together.
The band and producers came up with the concept of a toxic relationship that you can't let go of, "backfiring" and put it into a country inspired alternative sounding song. We wanted to make the song a duet so that both the man and the woman's perspective was seen in the track. Nick and Kyle then sent the song to Taylor and she loved it. Taylor put her past experiences and passion into the second verse and last chorus of the track. The work and passion that was put in by everyone involved made the song special and something that will turn heads in 2022 and beyond

-Faroudi
408's "Backfired" Continues Momentum
It's been a whirlwind year for 408. They signed a label deal with Regime Music Group and BreakSilence Recordings. In March they released "Mark Hoppus" which caught the attention of the legendary Blink 182 frontman himself.
They followed that up with a collaboration with Underoath frontman Aaron Gillespie on "U 2". They continued to pick up momentum with the release of "Drama King" in June. It's all leading up to the release of their debut full-length album Out of It on October 28th.
For additional 408 updates be sure to follow along on Facebook and Instagram. To link up with more of Taylor Acorn's music and tour info head over to her Linktree.
Enjoying MendoWerks Magazine? Receive updates each week directly in your inbox. Sign up for the newsletter here.
About Author